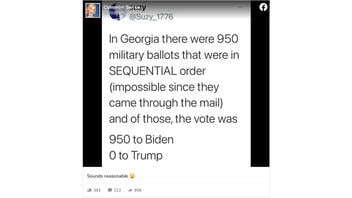 Is a batch of 950 military ballots for Joe Biden in Fulton County, Georgia, proof of election fraud? No, that's not true: Posts making that claim say the ballots were in sequential order but ballots aren't numbered, according to a county spokesperson.
Also, the fact that all 950 ballots in one batch went for Joe Biden can be explained by the tallying process rather than by fraud. A different batch of military ballots went 100% to Donald Trump. Overall in Fulton County, the results of a hand-count audit show that 266 military voters cast their ballots for Trump, versus 1,474 for Biden.
An example of the claim appeared in a Facebook post (archived here) on May 24, 2021. Alongside a sarcastic introductory message that reads, "Sounds reasonable," the post states:
In Georgia there were 950 military ballots that were in SEQUENTIAL order (impossible since they came through the mail) and of those, the vote was 950 to Biden 0 to Trump
This is what the post looked like at the time of writing:
(Source: Facebook screenshot taken on Fri May 28 17:41:50 2021 UTC)
The post did not include any sourcing to substantiate its claim, which appears to have come out of an interview John Fredericks did on Steve Bannon's "War Room" podcast on May 24, 2021. Fredericks is a conservative radio host; Bannon was a White House chief strategist under Trump. Fredericks told Bannon, at the two minute 26-second mark:
They did an analysis batch of 950 military ballots, 950. I want you to grasp what the findings are, and this is a matter of public record, nobody made this up. Out of a batch of 950 military mail-in ballots, Joe Biden got 950 votes; Trump zero. That's 100%. That is virtually impossible to have happen. Not only that, they were in sequential order.
Video and notes from the show can be seen here.
Fredericks was talking about military ballots in the context of an audit of absentee ballots in Fulton County, Georgia's largest county. On May 21, 2021, Henry County Superior Court Judge Brian Amero agreed, as part of an ongoing lawsuit, to unseal the ballots so they can be inspected and scanned. You can read his order here.
Lead Stories contacted Jessica Corbitt, a spokeswoman for Fulton County, to ask about the post's claims. In an email, dated May 28, 2021, she responded:
As you are likely aware, the specific claims you have shared are very similar to those made by plaintiffs in a pending lawsuit. Because that is a matter under judicial review, we will not comment further on these allegations at this time.
She confirmed, however, that the ballots in question are not numbered -- a fact that would cast doubt on the claim they were "in sequential order."
We also reached out to Walter Jones, a spokesman for the Georgia secretary of state's office, to ask about the allegations. In an email to Lead Stories, also dated May 28, 2021, he wrote:
The claim that this proves any fraud is baseless. This is just another case of people who don't understand how elections work assuming there's fraud instead of learning the process.
The claim's specific number of military ballots, 950, appears to stem from the results of a hand-count audit that affirmed the original outcome of Georgia's 2020 vote. The relevant part of that audit can be explored in this spreadsheet.
The results show several batches of military votes in Fulton County, including one in which all the ballots, 950, went for Biden. A different batch of 130 military ballots went 100% to Trump, while other batches included votes for both candidates. The results of the hand-count audit show that 1,474 military voters cast their ballots for Biden, versus 266 for Trump. Overall, Fulton, a decidedly Democratic county, voted for Biden.
The fact that one military batch went entirely to Biden is not proof of fraud. A much more likely explanation, as offered in this piece by Georgia Public Broadcasting, is that one or more of the counters just divided up the ballots that way -- choosing to tally Biden or Trump ballots in separate batches.
Back in January 2021, Georgia Secretary of State Brad Raffensperger responded to a related claim of "pristine ballots" in Fulton County. In a letter to lawmakers, he wrote that there are many reasons why a hand-marked ballot may not be folded, including the possibility that certain military ballots or ballots that are damaged cannot be scanned and are duplicated. He wrote:
The unstated implication of this allegation is that county election officials are creating fake or invalid ballots and running them through scanners. There is absolutely no evidence that this happened a single time in Georgia.
Although Raffensperger has expressed support for the latest audit in Fulton County, he told The New York Times that he does not expect it will turn up evidence of widespread fraud, nor does he expect the election results to change.