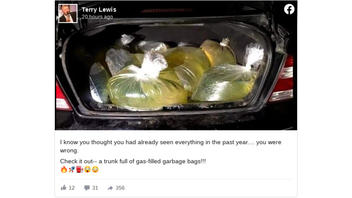 Does a photo show a trunk full of gas-filled garbage bags in the United States amid the gas shortage in 2021? No, that's not true. The photograph was lifted from several Mexican websites' articles in 2019 about stolen gasoline. It was not taken in the United States in 2021 amid the gas shortage due to the shutdown of the Colonial Pipeline following a cyberattack.
The claim appeared as a post (archived here) where it was published on Facebook on May 11, 2021. It opened:
I know you thought you had already seen everything in the past year.... you were wrong.

Check it out-- a trunk full of gas-filled garbage bags!!!
This is what the post looked like on Facebook at the time of writing:
(Source: Facebook screenshot taken on Wed May 12 17:13:13 2021 UTC)
The image is not even from the "last year," or 2020, referred to in the post.
Borderland Beat on March 27, 2019, published the photograph of the bags containing gas-colored liquid in the trunk of a car with a story titled: "Unstoppable Huachicoleo: Stolen Gasoline is even sold in plastic bags." Huachicoleo translated from Spanish means a person who steals and sells gasoline.
An article on the website Arenabcs.com titled, "Two are arrested in Puebla for carrying huachicol in plastic bags," was posted on March 28, 2019, and described the situation:


Personnel from the Federal Police and the Secretariat of the Navy arrested two subjects for carrying more than 20 plastic bags with apparent stolen gasoline. In Puebla, two subjects were arrested for transporting a liquid similar to gasoline in several plastic bags.
The photograph of the gas-filled plastic bags in a trunk of a car was attributed to a tweet from the Federal Police, but that Twitter account has been disabled.
According to the article, the tweet read:
#Puebla Elements of Gendarmería and @SEMAR_mx arrested two individuals in Huauchinango who wanted to carry more than a thousand liters of illegal gasoline in the trunk of their cars, distributed in plastic bags. Moving fuel without safety measures is a risk for everyone. pic.twitter.com/YEGGYn3Z0s
- Federal Police Mx (@PoliciaFedMx) March 26, 2019
In apparent response to the bogus Facebook post that claims the gas-in-bags photo is recent, the U.S. Consumer Product Safety Commission tweeted a warning about filling plastic bags with gasoline on May 12, 2021:
Do not fill plastic bags with gasoline.

-- US Consumer Product Safety Commission (@USCPSC) May 12, 2021
Lead Stories previously debunked a story about the Colonial Pipeline shutdown here.