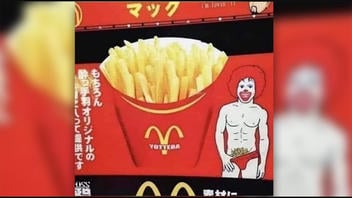 Did McDonald's in Japan run an ad campaign that featured a shirtless Ronald McDonald in red briefs overflowing with french fries? No, that's not true: In 2019, this french fry ad was promoting a much smaller Japanese restaurant chain called Yotteba. The artwork at the center of the campaign, "Sexy Ronald," was created in 2011 by a Brooklyn artist who goes by the name Wizard Skull, and the art was used without his permission.
Pictures from the french fry ad circulated widely back in 2019 and have appeared again in May 2021. One example is a Facebook post (archived here) published May 5, 2021. It opened:
I'm sorry to ruin your day so early, but there is a sexy Ronald McDonald ad running in Japan and I can't unsee it.

http://bit.ly/hot-ronald-mcdonald
i'm lovin it
This is what the post looked like on Facebook on May 7, 2021: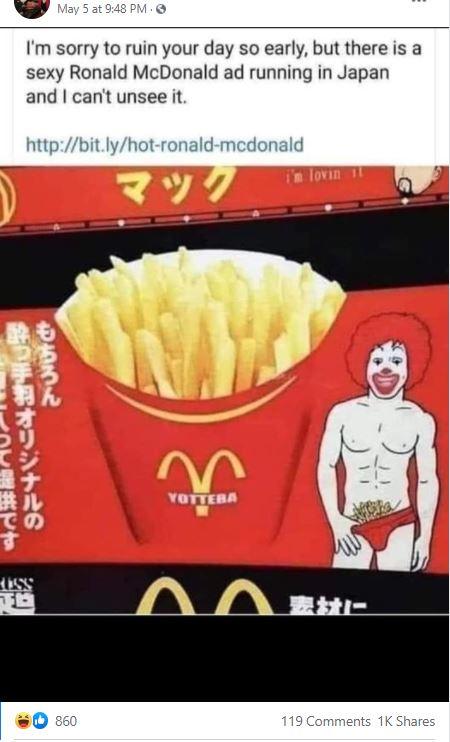 (Source: Facebook screenshot Fri May 07 19:43:04 2021 UTC)
The shortened bit.ly link included in the screenshot opens an October 2, 2019, YahooNews article titled, "Social media users shocked by topless Ronald McDonald advert." The article features a collection of tweets from late September and early October in 2019 that captured people's reactions to this ad. The article identifies the source of the ad campaign as a popular Japanese food chain, Yotteba, but does not identify the artist.
Wizard Skull, who uses the name "Wizard $kull", creates work featuring familiar pop culture characters such as SpongeBob, the Simpsons, Mickey Mouse, Garfield and Uncle Pennybags but many have been remade with NSFW adult themes. He wasn't pleased that the Japanese restaurant used his artwork without permission. In an October 4, 2019, post on Instagram (this Instagram post was featured in a worldofwonder.net article but is no longer public), Wizard $kull wrote:
Sexy Ronald is going #viral again. Without my knowledge a restaurant in Japan added him to their menu (without permission) and a photo has been going viral, there's been articles in NYpost, yahoo news, @carrottoplive even dressed up as it, and its trending on reddit, tons of meme accounts are posting, and lots local news stations are doing stories about it. #sexyronald #mcdonalds If you see it posted anywhere please tag me or send me the article since many don't mention me. Thanks :)
In an October 8, 2019, tweet Wizard $kull identified himself to a writer:
@carlystern hi. I'm the street artist in NYC who created Sexy Ronald in 2011. A restaurant in Japan stole the image without my permission. And your article uses my art without mentioning me.

-- WIZARDSKULL (@Wizard_Skull) October 8, 2019