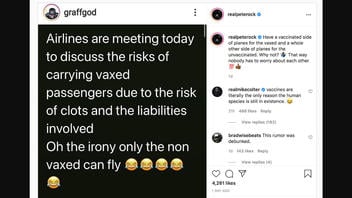 Is there a "risk of clots" from accepting people vaccinated for COVID-19 alongside the nonvaccinated as airline passengers, and are airlines afraid of the liability and holding meetings to discuss the risks? No, that's not true: There is no publicly available evidence of such a meeting and the claim is posted without proof of one. Those vaccinated cannot "shed" or spread the virus onto unvaccinated people. And while federal health officials paused the release of the Janssen/J&J vaccine when six women out of the first 6.8 million who received it developed a rare clotting disorder, there was no correlation to air travel noted by the Food and Drug Administration when it re-approved the one-shot vaccine for use in fighting the pandemic. In December of 2020, the Department of Transportation (DOT) also made it clear that it would encourage passengers to get vaccinated and support transportation safety guidelines set by public health officials.
This claim has appeared on multiple social media accounts, including this Instagram post (archived here) uploaded on May 31, 2021. The caption on the post reads:
"Airlines are meeting today to discuss the risks of carrying vaxed passengers due to the risk of clots and the liabilities involved Oh the irony only the non vaxed can fly 😂😂😂😂😂"
The comments go on to state:
"Have a vaccinated side of planes for the vaxed and a whole other side of planes for the unvaccinated. Why not? 🤷🏾‍♂️ That way nobody has to worry about each other 💯👍🏾"
Social media users saw this post.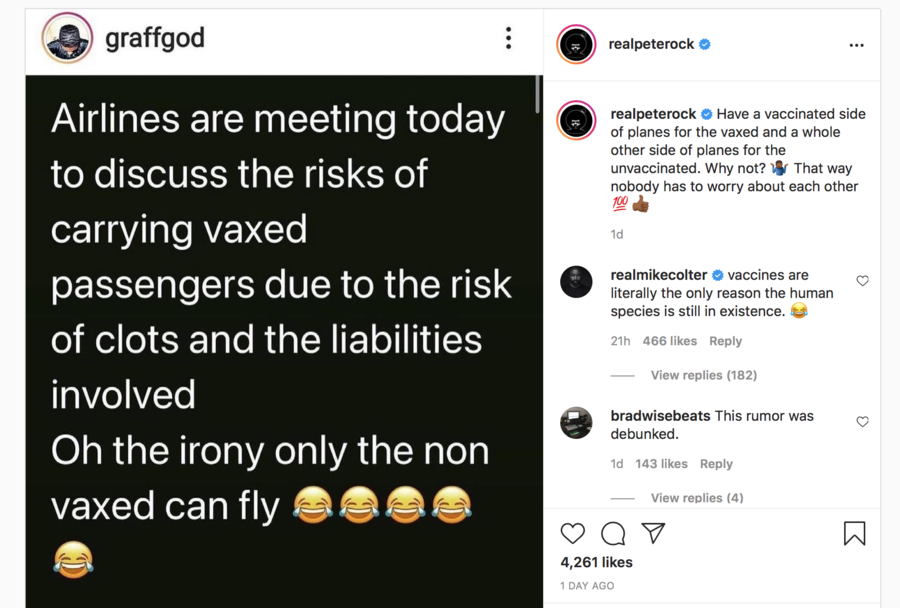 Lead Stories has repeatedly debunked the claim that COVID-19 vaccines cause any significant harm. For example, in a prior fact check concerning "self-spreading vaccines," it is reported that:
According to the U.S. Centers for Disease Control and Prevention, people who get a COVID-19 shot cannot shed or release vaccine components. None of the vaccines currently authorized in the United States have a live virus, making shedding impossible.

That point was echoed in a statement, emailed to Lead Stories on May 19, 2021, by a Pfizer spokesperson. It read (emphasis ours):

The Pfizer-BioNTech COVID-19 vaccine is a synthetic mRNA vaccine and does not contain any virus particles. Because there is no virus produced in the body, no shedding occurs within the human body. The vaccine cannot be inhaled via shedding and can only enter the human body through an administered dose.
Following this approval, the Federal Aviation Administration (FAA) has stated that the Centers for Disease Control and Prevention (CDC) guidance for domestic and international travel recommends delaying a trip until fully vaccinated.
The FAA also directs anyone with COVID-19 and vaccine-related questions to FlyHealthy.gov via the DOT. Although FlyHealthy.gov specifically states the CDC recommends delaying travel until people are fully vaccinated, it is noted that traveling increases the chance of getting and spreading COVID-19. Therefore, if a passenger is not fully vaccinated and must travel, the website also suggests following the CDC's recommendations for unvaccinated people.
In regards to whether or not there is a possibility that a discussion surrounding the claim has taken place, Airlines for America (A4A), a lobbying group representing the most recognized airlines in the U.S., responded to an email Lead Stories sent on June 2, 2021:
U.S. airlines have been encouraged by the success of our nation's vaccination program and, as noted in a recent coalition letter, have routinely expressed our belief that widespread vaccination can serve as the foundation for re-opening critical international markets.
In a recent press release, the International Air Transport Association (IATA) states:
The International Air Transport Association (IATA) applauded the growing number of countries making data and evidence-driven decisions to open their borders to vaccinated travelers. The latest data collected by IATA, including its Timatic service, shows that more than 20 countries have wholly or partially lifted restrictions for vaccinated travelers.

IATA supports unrestricted access to travel for vaccinated travelers. In cases where vaccination is not possible, access to quarantine-free travel should be provided through COVID-19 testing strategies based on widely available, free-of-charge tests.
When asked about the various claims in this post as well as the data above via email on June 7, 2021, IATA Head of Corporate Communications (USA) Perry Flint responded to Lead Stories:
It's hard to believe people can take seriously the idea that airlines would consider banning vaccinated travelers from air travel.

Here's what I can tell you:

To begin with, we're not aware that any such meeting had taken place.

Additionally, IATA's position is that travelers who are vaccinated should be free to travel without restriction.

Furthermore, the particular blood clot phenomenon (known as Vaccine-Induced Immune Thrombotic Thrombocytopenia or VITT), which has been designated as a rare side effect of one or possibly two types of COVID vaccines, is a different disorder from blood clots in the leg (deep vein thrombosis) and lung (pulmonary embolism) which can be associated with long periods of immobility.