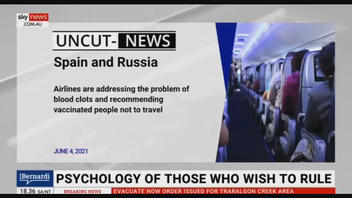 Did airlines in Spain and Russia recommend vaccinated people not travel due to the risk of blood clots? No, that's not true: the rumor was based on a debunked story that apparently traveled from a Telegram channel to a Dutch website before being picked up by a site in Russia that was then used as a source for an article on a Swiss website that found its way through Google Translate to Sky News Australia where host Cory Bernardi omitted several words from the headline that changed the rumor and made it even more false.
The claim appeared in a Sky News Australia video (archived here) where host Cory Bernardi can be heard saying:
Airlines in Spain and Russia are warning people who have been vaccinated against coronavirus not to travel because of the risk of blood clots.
The words were accompanied by following screenshot: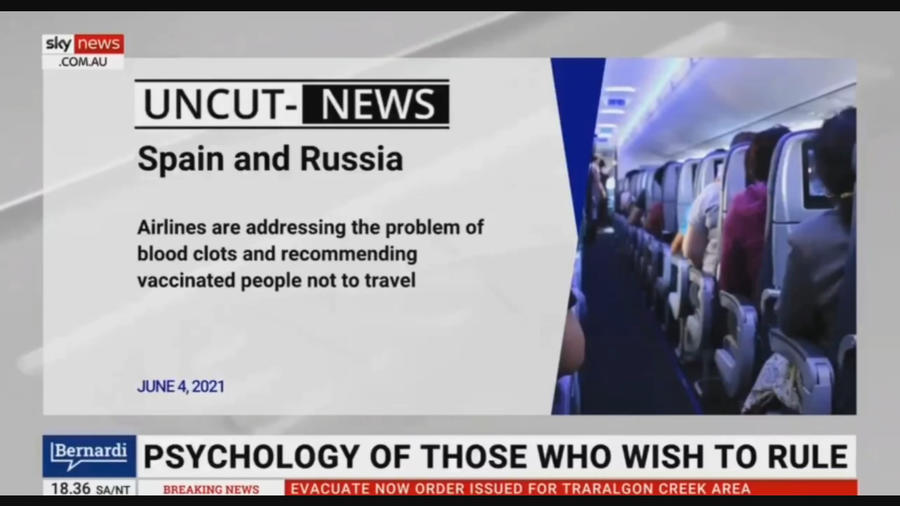 (Source: Screenshot taken by Lead Stories on June 17, 2021)
So, what is the source of this news? The screenshot references "Uncut-News", which apparently is a site in German using a Swiss domain name. They indeed published an article (archived here) on June 4, 2020 titled "Medien in Spanien und Russland: Fluggesellschaften gehen das Problem der Blutgerinnsel an und empfehlen geimpften Personen, nicht zu reisen".
If you know a bit of German you immediately spot the problem. If you don't, check the Google Translation of that headline:
Media in Spain and Russia: Airlines are addressing the problem of blood clots and recommending vaccinated people not to travel
So, it is the media in Spain and Russia that are supposedly saying this is happening, not the airlines in those countries? Which media are we talking about? Let's dig in (note: all quotes below were translated using Google Translate).
The "Spanish media" is represented by a site named mpr21, which bills itself as "La web mas censurada par Google" (translated: "The web most censored by Google"). Their article (archived here) is titled "Las aerolíneas se enfrentan al problema de los coágulos, con recomendaciones de no viajar a las personas vacunadas" (translated: "Airlines grapple with blood clots, with recommendations not to travel for vaccinated people"). It opens:
The main airlines in the world are discussing whether it is advisable to admit vaccinated customers, due to the risk of blood clots that run as a result of the experimental serum mRNA.
So not the Spanish airlines, but the "main airlines in the world". And they are not "recommending" anything yet, they are "discussing" it. Lead Stories already looked into that claim and found it was false: there is no evidence of such meetings and aviation authorities are actually recommending people get vaccinated before flying.
But then maybe the Russian media had the story? No dice. The story at osnmedia.ru (archived here) that the Swiss website links to writes:
As noted by the Dutch website Vrijspreker, airlines have their own rules on this matter. ... "The airlines are now discussing their responsibilities and what to do with the vaccinated as they are not allowed to fly due to health risks. These discussions have just begun, but it seems that anyone who has been vaccinated is not allowed to fly. On the other hand, the unvaccinated can fly safely, "the publication says.
Again, the same false rumor about "discussions". But where did this Dutch website get it from? The article at Vrijspreker.nl (archived here) says this:
At the moment, the airlines are discussing the vaccinated customers

...

The airlines are now discussing their liability and what to do with the vaccinated as they are not allowed to fly because it is a health risk. These discussions are just getting started but it looks like anyone who is vaccinated should not be allowed to fly.
So, more of the same false "discussion" rumor. Interestingly enough Vrijspreker appears to have received questions on their sourcing since they added following disclaimer at the end of the story:
Vrijspreker has been asked about the source of the above article 'No flying for the vaccinated?' The original message came from the Telegram channel "Time to move on".
Lead Stories was unable to locate this Telegram channel.
We have reached out to Sky News Australia through the contact form on their website to inquire if they plan on airing a correction and we will update this story when we receive a reply.