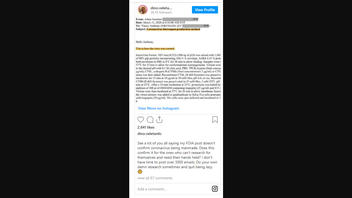 Does an email addressed to Dr. Anthony Fauci confirm that COVID-19 was man-made? No, that's not true: The email, forwarded to Fauci via public inquiry, states that the virus that causes COVID-19 was created but does not prove that it was. The search for the origin of the virus, at the time this fact check was written, was still under way.
The claim appeared in an Instagram post (archived here) published on June 2, 2021. The post included the email addressed to Fauci, dated March 11, 2020, as well as a message that read:
See a lot of you all saying my FOIA post doesn't confirm coronavirus being manmade. Does this confirm it for the ones who can't research for themselves and need their hands held? I don't have time to post over 3000 emails. Do your own damn research sometimes and quit being lazy.

🙃
Users on social media saw this at the time of writing:
On June 1, 2021, BuzzFeed News and The Washington Post published thousands of pages of pandemic emails, spanning January to June 2020. The post references one of those emails, the full text of which can be read here (see page 2286). It was written by Adam Gaertner, an independent researcher. His message was forwarded to Fauci, the nation's top infectious disease expert and director of the National Institute of Allergy and Infectious Diseases, via public inquiry. There is no evidence of a reply.
Gaertner's email states that the virus that causes COVID-19 was created, but does not prove that it was. A claim does not equal proof.
Also of note, his email was copied, nearly word for word, from this study, conducted by researchers at the University of Pennsylvania in 2005, way before the emergence of the virus that causes COVID-19. Gaertner was not one of those researchers and his medical and academic credentials were not immediately clear. His website does not list any school or hospital affiliations and includes a disclaimer that says "the information below is largely outdated and is here for entertainment and retrospective purposes only." In a video posted to his website, dated May 25, 2021, Gaertner says:
I am not a doctor, a professor or anything else. I've just been doing a lot of research over the last year concerning COVID.
In March 2021, a World Health Organization-convened study team released a report saying "a laboratory origin of the pandemic was considered to be extremely unlikely." The team considered direct zoonotic spillover to be a possible-to-likely pathway; introduction through an intermediate host as a likely to very likely pathway; and introduction through cold/food chain products as a possible pathway. A zoonotic disease is a disease that passes between species, from animals to humans and vice versa.
Since that report, the idea that the virus came from a lab has gathered steam. A group of scientists said in a letter to Science that the possibility deserved further consideration and, on May 26, 2021, President Joe Biden ordered an investigation by intelligence agencies into the origins of the virus, considering both possibilities -- that the virus emerged from human contact with an animal and that it came from a lab. He asked for a report in 90 days.
All that is to say that at the time this fact check was written, June 3, 2021, the search for the origin of the virus was ongoing. Nevertheless, Gaertner's email states as fact that the virus was created -- a theory that is not proven, much less evidenced by an unanswered email he addressed to Fauci.
Gaertner's Twitter page says he discovered a cure for COVID-19 back in April 2020. He supports the use of ivermectin, which the Food and Drug Administration (FDA) says should not be taken to prevent or treat COVID-19. Read more about the medication here and see here for the FDA's explanation of current treatment options.