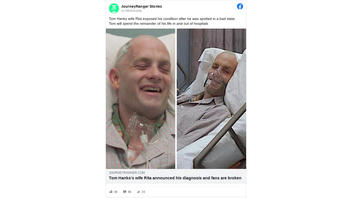 Did actor Tom Hanks' wife Rita Wilson reveal her husband's health condition and will he "spend the remainder of his life in and out of hospitals"? No, that's not true: Hanks, who was diagnosed with Type 2 diabetes in 2013 and COVID-19 in 2020, has reportedly managed both diseases. There is no evidence of other health issues facing the actor, and his wife has made no statement about his health.
The claim appeared in a Facebook post (archived here) where it was published by an entertainment page called JourneyRanger Stories on June 2, 2021. The post, which featured pictures of Hanks lying in a hospital bed with no hair on his head or face, read:
Tom Hanks wife Rita exposed his condition after he was spotted in a bad state. Tom will spend the remainder of his life in and out of hospitals
This is what the post looked like on Facebook on June 3, 2021:
(Source: Facebook screenshot taken on Thu Jun 3 20:11:49 2021 UTC)
The link included in the post led readers to an article titled "Celebrities Who Have Been Living With Hidden Health Conditions," which was published on JourneyRanger's website on January 10, 2021. In the section about Hanks, the article made no mention of a condition that would leave Hanks "in and out of hospitals" for the rest of his life. Rather, it discussed his Type 2 diabetes diagnosis, which he revealed in 2013, and referenced a comment he made about being a part of the "lazy American generation that has blindly kept dancing through the party and now finds ourselves with a malady."
The pictures included in the Facebook post, which do not appear in the corresponding article, are stills from "Philadelphia," a 1993 film starring Hanks, in which he played a lawyer who was fired due to his HIV/AIDS diagnosis. The stills are from a hospital scene in the film. A clip of the scene is included below:
Although Hanks and Wilson were both diagnosed with COVID-19 in March 2020, they were released from COVID-19 care soon after they made the announcement. Hanks made a live appearance on January 20, 2021, when he hosted "Celebrating America," a 90-minute production celebrating the newly installed Biden administration.
After conducting search-engine inquiries and checking Hanks' and Wilson's social media accounts, Lead Stories could not find any evidence of Wilson making a public statement about Hanks experiencing health problems that would cause him to be hospital-bound for the rest of his life.