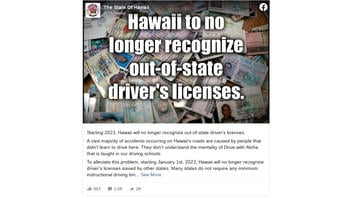 Did Hawaii issue an announcement saying that it will not recognize out-of-state driver's licenses as of 2023? No, that's not true: This is a satirical piece from an entertainment website. Also, existing Hawaii law directly negates this claim.
The meme appeared in a Facebook post (archived here), where it was published by the unofficial site The State of Hawaii on June 15, 2021. The post's headline said:
Hawaii to no longer recognize out-of-state driver's licenses.
The text began:
Starting 2023, Hawaii will no longer recognize out-of-state driver's licenses.

A vast majority of accidents occurring on Hawaii's roads are caused by people that didn't learn to drive here. They don't understand the mentality of Drive with Aloha that is taught in our driving schools.
This is how the post looked on June 21, 2021:
(Source: Facebook screenshot taken on Mon Jun 21 22:01:28 2021 UTC)
The text continued:
To alleviate this problem, starting January 1, 2023, Hawaii will no longer recognize driver's licenses issued by other states. Many states do not require any minimum instructional driving time or written testing before issuing drivers' licenses.

These lax requirements lead to drivers who don't know how to drive safely and are often drive recklessly. 46% of all speeding tickets issued are to people with licenses from California, Florida, and New York.

Visitors and new residents who wish to drive here will be required to apply for a driving test to be administered on arrival before they are allowed to rent a vehicle. A new DMV office will be opened in all state airports to provide testing to visitors and new arrivals.

Those requiring testing will be able to visit the DMV website to learn about the requirements and receive practice instructions before arriving. Anyone failing the test will be prohibited from retesting and/or driving in the state for 30days.

Driving in Hawaii is a privilege, and if you cant prove you're able to do so safely, then you won't be able to drive here when visiting.
The State of Hawaii says at the top of its page that it is an "Entertainment Website." It mixes information with satire, as exemplified by this line from the site's "About" page:
Many times, we see our ideas translate into laws, ordinances, policies, and rules, and that should scare everyone.
Shelly Kunishige, communications manager at the Hawaii Department of Transportation, responded to Lead Stories via email on June 21, 2021, regarding the driver's license post:
This is not true. Reciprocal licensing privileges are codified under Hawaii Revised Statutes.