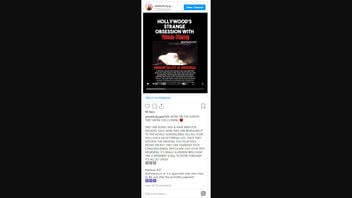 Does a video show a "sleeve," or human body used for cloning? No, that's not true. The video was copied from promotion for the Netflix show Altered Carbon. This was a presentation the streaming service used to garner attention for the show in 2018 and is not photo documentation of Hollywood elites secretly cloning people, a variation on the QAnon conspiracy theory that a cabal of wealthy people is taking over the world through methods unknown to science. Experts in the human genome say there is no evidence anyone has succeeded in creating a live, fully-developed human clone.
The claim appeared as a video (archived here) where it was published on Instagram on June 18, 2021. It opened:

Hollywood's strange obsession with human cloning
Social media users saw this:

(Source: Instagram screenshot taken on Mon Jun 21 07:33:16 2021 UTC)
What the Instagram post claims has never been done, according to subject-area experts, at the National Human Genome Research Institute, where the frequently-asked question about human cloning is answered as follows:
Despite several highly publicized claims, human cloning still appears to be fiction. There currently is no solid scientific evidence that anyone has cloned human embryos.

In 1998, scientists in South Korea claimed to have successfully cloned a human embryo, but said the experiment was interrupted very early when the clone was just a group of four cells. In 2004, a group led by Woo-Suk Hwang of Seoul National University in South Korea published a paper in the journal Science in which it claimed to have created a cloned human embryo in a test tube. However, an independent scientific committee later found no proof to support the claim and, in January 2006, Science announced that Hwang's paper had been retracted.
This clone claim is supported by a two-minute five-second video that was part of the TV show producers' Hollywood launch and shows actors and special effects, not human bodies grown for cloning. Netflix promoted the show Altered Carbon at the Consumer Electronics Show (CES) in Las Vegas in 2018 according to an article titled, "Netflix is goofing off with lab-grown bodies at CES," published on The Verge. The show ran from 2018 to 2020, according to IMDB.
The full caption on the Instagram post read:
MORE ON THE SLEEVES THEY GROW FOR CLONING 👿
THEY ARE DOING THIS & HAVE BEEN FOR DECADES, ONLY NOW THEY ARE REVEALING IT TO THE WORLD. NORMALIZING SELLING YOUR SOUL FOR A FALSE ETERNAL LIFE. ONCE THEY DESTROY THE ORIGINAL YOU YOUR SOUL MOVES ON BUT THEY CAN TRANSFER YOUR CONSCIENCENESS, WHICH ARE JUST YOUR PAST MEMORIES. IT'S REALLY A DEMON WHO NOW HAS A DIFFERENT SHELL TO WORK THROUGH. IT'S ALL SO CRAZY.
☠️☠️☠️
Hebrews 9:27
And inasmuch as it is appointed unto men once to die, and after this [cometh] judgment;
✝️✝️✝️
The video had the caption:
Immortality is immoral

In the future, humans have achieved virtual immortality. Most people have cortical stacks in there spinal column is that store their consciousness. If their body dies, their stacks can be stored indefinitely. Their stacks can be downloaded into new bodies, or "sleeves", after death. Meths, named after the long-lived biblical character of Methuselah, are individuals with extended lives granted to them by re-sleeving regularly. The individuals in question are usually the wealthiest citizens."
A YouTube video from February 2018 shows the body in the bag at 3:51 and scenes from the event where Netflix was promoting the show: