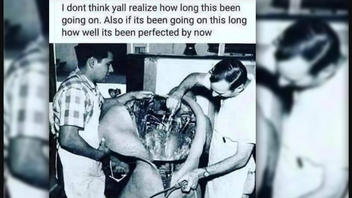 Does this photo show a humanoid robot and has it already been "perfected"? Furthermore, does this photo show military technology that's "ancient" and has been "militarized against the masses"? No, that's not true: This photo appeared in the January 1964 issue of Popular Science. It shows Walt Disney engineers doing some adjustments on an animatronic caveman that WED Studios built for Ford's "Magic Skyway" exhibit at the 1964-65 New York World's Fair.
The meme, circulating on social media since 2008, reappeared in a post (archived here) where it was published by awakentotruth on June 3, 2021. The post was captioned:
awakentotruth

Reposted from @eso_the_god Military technology is WAYYYYYYY ahead of what's released to the public. By the time it gets to us... it's outdated. Remember this technology is ancient and they know that. It's been occulted and militarized against the masses.
The text in the meme reads:
I dont think yall realize how long this been going on. Also if its been going on this long how well its been perfected by now
This is how the post appeared on Instagram on June 4, 2021: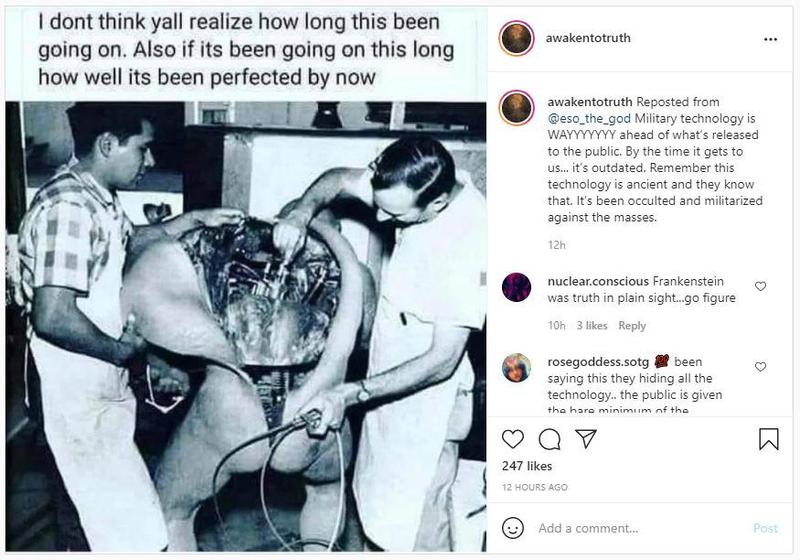 (Source: Instagram screenshot taken on Fri Jun 04 15:09:32 2021 UTC)
The meme's wording and the post's caption are not very specific in their claims -- by design. It seems to be a generalized attempt to scare people. The photo has nothing to do with the military and, while 1964 was over a half-century ago, this technology is far from ancient. These animatronic characters were very novel at the time and were designed for entertainment, not war.
The January 1964 issue of Popular Science featured this unnerving photo captioned, "What to do for a splitting backache" as a full page on page 91. The reader had to turn the page to read, "... automated caveman gets a rear-end drive". The article explains:
Despite his wide-open situation, the caveman on the preceding page is feeling no pain.

With fellow tribesmen, he will soon be settling down for a stay in the Ford Pavilion at the New York World's Fair. Members of the clan grin, groan, and grunt, view a giant bear with alarm, point, push, and haul a dead mammoth, draw wall pictures, and create fire. One of them invents the wheel.

They are creatures of Walt Disney and his WED studios in Glendale, Calif.
In this video, Walt Disney gives a tour of WED studio where the prehistoric creatures and cavemen were being built. They would be part of Ford's "Magic Skyway" exhibit at the Ford Pavilion of the New York World's Fair. These are not robotic humanoid super-soldiers; they are animatronic characters for an amusement ride.

This video gives a view of the attraction in operation, where the guests enjoyed a smooth ride around the half-mile track in a real top-down convertible Ford car.