STORY UPDATED: check for updates below.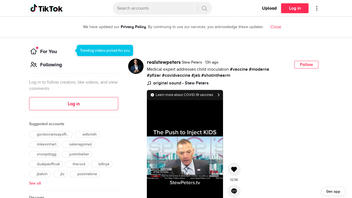 Does a video tell the full and complete truth about adverse events experienced by adolescents in a Pfizer COVID-19 vaccine trial? No, that's not true: It says that 86% of children reported "adverse reactions, ranging from mild to serious," failing to mention that that number represents the percentage of adolescents who reported pain at the injection site after the first shot. Serious adverse events were extremely rare, the Food and Drug Administration found.
The claim appeared in a TikTok video (archived here) posted by "The Stew Peters Show" on June 3, 2021. It featured Peters saying:
Eighty-six percent of children who participated in a Pfizer COVID vaccine trial reported adverse reactions, ranging from mild to serious.
Users saw this on social media at the time of writing:
As Peters spoke, official-looking documents flashed on the screen, showing text and a table of data. It appears that what was shown was this fact sheet for vaccination providers. On May 10, 2021, the Food and Drug Administration (FDA) expanded its emergency use authorization for the Pfizer-BioNTech COVID-19 vaccine to include adolescents ages 12 and up.
Acting FDA Commissioner Janet Woodcock said at that time:
Today's action allows for a younger population to be protected from COVID-19, bringing us closer to returning to a sense of normalcy and to ending the pandemic. Parents and guardians can rest assured that the agency undertook a rigorous and thorough review of all available data, as we have with all of our COVID-19 vaccine emergency use authorizations.
Part of that data was reported in the updated fact sheet, which shows the numbers and percentages of adolescents in a clinical trial of the Pfizer COVID-19 vaccine who experienced side effects from the shot. Of those who received the first dose of the vaccine, 86% reported pain at the injection site. Of that number, just 1% reported severe pain.
The video is misleading because it uses that 86% figure to suggest that most adolescents in the study experienced serious side effects. In fact, according to the FDA fact sheet:
Serious adverse events from Dose 1 through up to 30 days after Dose 2 in ongoing follow-up were reported by 0.4% of Pfizer-BioNTech COVID-19 Vaccine recipients and by 0.1% of placebo recipients. There were no notable patterns or numerical imbalances between treatment groups for specific categories of serious adverse events that would suggest a causal relationship to Pfizer-BioNTech COVID-19 Vaccine.
The Centers for Disease Control and Prevention (CDC) recommends that everyone 12 years and older get a COVID-19 vaccine to help slow the spread of the disease.
2023-07-25T08:55:54Z

2023-07-25T08:55:54Z

Updated headline to include the 86% number