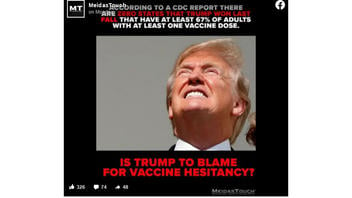 Did the Centers for Disease Control and Prevention (CDC) issue a report that compared how states voted in the 2020 presidential election with their vaccination rates? No, that's not true: There is no such report, according to a CDC spokesperson. That said, the agency does collect and release vaccination statistics and it's easy enough for anyone with internet access to compare that data with how states voted.
The claim appeared in a Facebook post (archived here) published on June 14, 2021. It opened:
According to a CDC report there are zero states that Trump won last fall that have at least 67% of adults with at least one vaccine dose.
This is what the post looked like at the time of writing:
(Source: Facebook screenshot taken on Tue Jun 15 18:22:08 2021 UTC)
Lead Stories reached out to the CDC to ask whether the agency released a report that compares how states voted in the election with their vaccination rates. A spokesperson responded, via an email on June 15, 2021, that it had not.
It is true, however, that the CDC reports vaccination rates by state. One of the numbers it tracks is the percentage of adults with at least one dose of a COVID-19 vaccine, and it's an easy enough leap from there to compare those figures with how states voted in the 2020 election. You can search the CDC data here. Looking at the two sets of data on the day this fact check was written, none of the states Donald Trump won in the 2020 election have at least 67% of adults with at least one vaccine dose.
But that fact can be misleading without appropriate context.
Several states won by Joe Biden also have relatively low vaccination rates. For example, in Georgia, just 52.2% of the adult population has at least one dose; in Arizona, it's 59.4%; in Nevada, 59.1%. All three states went for Biden. Clearly, states' vaccination rates are not a simple function of politics, as the Facebook claim suggests.
The post ends with: "Is Trump to blame for vaccine hesitancy?"
Arguments can be made for both sides.
On the one hand, the former president sometimes contradicted top health officials, undermining their authority in the eyes of the public, and stressed that the decision to get vaccinated was a personal choice, bound up with the idea of individual freedom.
On the other hand, Trump got the vaccine himself -- albeit privately -- and has urged his supporters to do the same. In an interview with Maria Bartiromo on Fox News, in March 2021, the former president said at three minutes 22 seconds:
I would recommend it, and I would recommend it to a lot of people that don't want to get it, and a lot of those people voted for me, frankly. But, you know, again, we have our freedoms and we have to live by that, and I agree with that also.
He added:
It is a great vaccine. It's a safe vaccine and it's something that works.
Trump has also repeatedly taken credit for helping to develop and roll out the COVID-19 vaccines in record time. During the Fox News interview, he said at two minutes 35 seconds:
We took a big bet on this. We started manufacturing the vaccine before we really knew it worked. We saved many many months and millions of lives by doing that because you wouldn't have the vaccine right now if we didn't take that chance. We knew what we were doing. We felt strongly it was going to work.