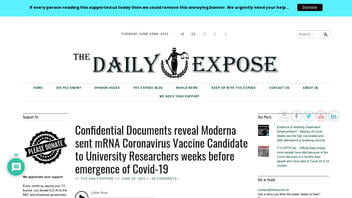 Were COVID-19 vaccine "candidates" transferred to the University of North Carolina at Chapel Hill (UNC) in December 2019 before the COVID-19 outbreak? No, that's not true: The vaccine materials transferred were for MERS-CoV, the virus that causes Middle East Respiratory Syndrome, not for SARS-CoV-2, the virus that causes COVID-19, according to a spokesperson at the National Institute of Allergy and Infectious Diseases (NIAID). MERS-CoV and SARS-CoV-2 are two of the seven coronaviruses known to infect people.
The claim that public health officials knew in advance of the coming pandemic was implied in an article (archived here) published by The Daily Expose on June 18, 2021. The article, titled "Confidential Documents reveal Moderna sent mRNA Coronavirus Vaccine Candidate to University Researchers weeks before emergence of Covid-19," opened:
U.S. Gov't Sent 'mRNA Coronavirus Vaccine Candidates' to University Researchers WEEKS BEFORE 'COVID' Outbreak in China!

A confidentiality agreement shows potential coronavirus vaccine candidates were transferred from Moderna to the University of North Carolina in 2019, nineteen days prior to the emergence of the alleged Covid-19 causing virus in Wuhan, China.
Users saw this on social media at the time of writing:
BREAKING - Is this the smoking gun that proves this has all been planned? Moderna and Fauci's Institute sent mRNA coronavirus vaccine candidate to University researchers weeks before the alleged existence of C0V1-D-I9...https://t.co/uKkZ1BVqbG

-- Daily Expose Media (@DailyExposeTeam) June 22, 2021
The article included a link to documents that, among other things, outlines a December 2019 agreement among NIAID, Moderna and researchers at UNC. You can read those documents here. (For the purpose of this fact check, jump to page 105.) The agreement lists NIAID and Moderna as "providers" and UNC as "recipient." It states:
Provider agrees to transfer to Recipient's Investigator the following Research Material: mRNA coronavirus vaccine candidates developed and jointly-owned by NIAID and Moderna.
The article makes a big deal of the timing of the agreement, namely, that it took place before the pandemic. The article reads:
All of these signatures were made prior to any knowledge of the alleged emergence of the novel coronavirus. It wasn't until December 31st 2019 that the World Health Organisation (WHO) became aware of an alleged cluster of viral pneumonia cases in Wuhan, China. But even at this point they had not determined that an alleged new coronavirus was to blame, instead stating the pneumonia was of 'unknown cause'.
And later:
Perhaps Moderna and the National Institute of Allergy and Infectious Diseases would like to explain themselves in a court of law?
The clear implication of the article is that NIAID and Moderna had vaccine candidates against SARS-CoV-2 in December 2019 as part of a plan to start an epidemic, an oft-recycled conspiracy theory that holds the COVID outbreak was a way for shadowy elites to control the population.
Lead Stories reached out to NIAID to ask about the agreement. A spokesperson responded in an email, dated June 22, 2021. It read:
The materials transferred to UNC in December 2019 were vaccine candidates against Middle East Respiratory Syndrome coronavirus (MERS-CoV) and not SARS-CoV-2.
There are many different types of human coronaviruses, as is explained here. Among them are MERS-CoV, the virus that causes MERS, SARS-CoV, the virus that causes SARS and SARS-CoV-2. The NIAID spokesperson added:
Because coronaviruses have been known to experts as viruses with a high probability of causing pandemics, NIAID researchers have been studying ways to develop vaccines against coronaviruses for years prior to the identification of SARS-CoV-2, the coronavirus that causes COVID-19. NIAID scientists selected MERS-CoV as a 'prototype pathogen' to study for vaccine development with the intention that the approach could be generalized for vaccines against viruses within the same virus family.
According to the spokesperson, NIAID's Vaccine Research Center and Moderna have collaborated on vaccine research since 2017. Their agreement was amended in February 2020 to add mRNA vaccine candidates for other emerging viruses, including SARS-CoV-2. In other words, the transfer of mRNA coronavirus vaccine candidates in December 2019 was part of NIAID's ongoing pandemic preparedness, which preceded the emergence of COVID-19.
Lead Stories also reached out to UNC and Moderna to ask about the agreement. Without speaking directly to the transfer mentioned in the article, a spokesperson for Moderna stressed that the company had been working on both SARS and MERS, viruses that precededed emergence of SARS-CoV-2. We will update this story, as needed, if we receive a response from UNC.