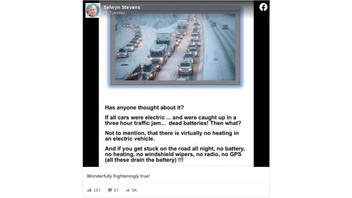 Would electric cars caught in a three-hour traffic jam drain their batteries? Will electric car drivers suffer with "virtually no heating" if stuck overnight on a cold road? Will the GPS, radio and heating drain the battery? No, none of that is true: A senior engineer and part of the Clean Transportation Program at the Union of Concerned Scientists, took Lead Stories though a post making those claims, debunking them point by point.
The story originated from a post where it was published on Facebook on June 15, 2021, with the caption "Wonderfully frighteningly true!" The main picture of the post was a snowy highway with cars and trucks stuck in bumper-to-bumper traffic. The post opened with:
Has anyone thought about it? If all cars were electric ... and were caught up in a three hour traffic jam... dead batteries! Then what? Not to mention, that there is virtually no heating in an electric vehicle. And if you get stuck on the road all night, no battery, no heating, no windshield wipers, no radio, no GPS (all these drain the battery) !!!
This is what the post looked like on Facebook at the time of writing:
(Source: Facebook screenshot taken on Fri Jun 18 14:51:17 2021 UTC)
Lead Stories emailed the Union of Concerned Scientists on June 18, 2021. David Reichmuth, a senior engineer in the Clean Transportation program at that organization, responded to all the claims in the post on June 22, 2021.
These claims are wrong. Let's start with the easiest: "there is virtually no heating in an electric vehicle". All electric vehicles have heating systems, either resistive heaters (akin to an electric space heater) or a heat pump system and can operate in cold weather. Case in point, due to tax policy, EVs are outselling gasoline cars in Norway, a country with low winter temperatures. Tax credits help, but people would not buy an EV there if it couldn't drive in the winter.

The second two points are related to the energy consumption of the heating system. This varies with EV model, but heating an EV does require some of the energy from the battery pack. Looking at the Tesla Model 3 (best-selling EV in US), it looks like the heating system uses around 4.2 kW when set at 72F in winter conditions. This works out to about 15 miles of range lost per hour of using heater. The Tesla Model 3 gets between 240 and 350 miles range, so even a three hour traffic jam would not strand an EV driver. The gasoline case is not that dissimilar. According to US Department of Energy, a large sedan uses 0.4 gallons per hour just idling (no AC/radio/etc.). If the average new sedan gets 30.9 mpg, then idling costs a gasoline car around 12 miles of ranger per hour. So if a gasoline OR electric car gets stuck in a 3 hour traffic jam with a near empty gas tank / battery, there could be issues, but it's not a problem specific to EVs.

For the case of overnight use of the car, the claim you couldn't spend the night parked outside is also wrong. In fact, people have used their EVs for camping with a low impact on range, even in low temps.
Reichmuth's organization, headquartered in Cambridge, Massachusetts, is a national nonprofit organization founded more than 50 years ago by scientists and students at the Massachusetts Institute of Technology, now with "nearly 250 scientists, analysts, policy and communication experts," according to the website.