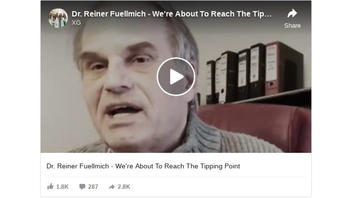 Was the novel coronavirus launched as a diversionary tactic to distract the masses from misdeeds of global elites, and is COVID-19 less dangerous than the seasonal flu? No, that's not true: Experts in public health and virology have published several peer-reviewed papers dismissing as conspiracy theories the claim that the COVID pandemic was launched on purpose. The nation's leading infectious disease expert says the infectiousness of COVID makes it much more dangerous than flu and statistics bear him out: Standard mortality statistics for 2020 show more than 500,000 deaths due to COVID, with the overall death rate rising for the first time since the federal government began keeping mortality statistics in 1910.
Debunked conspiracy theories claiming "elites" caused the pandemic have circulated online since 2020, including the theory found in this video (archived here) posted on Facebook April 23, 2021, under the title "Dr. Reiner Fuellmich - We're About To Reach The Tipping Point". It opened:
We all know now, those 10 or 20% of us who still have a brain to use and to think with, this has never been about the virus. This has never been about health. This has always been about taking everything away from us so that we would be dependent on them. Plus, population reduction, plus gaining complete control over those who are left.
This is what the post looked like on Facebook at the time of writing:
(Source: Facebook screenshot taken on Mon Apr 26 23:36:05 2021 UTC)
Fuellmich, who repeatedly has said he will prosecute world leaders at a trial like the Nazi war crimes trial at Nuremberg, tacitly compares Hitler's killing of 6 million Jews to the quarantines and other public health measures imposed to slow the COVID-19 pandemic. In the opening of the video, he alludes to his prosecution plan:
There cannot be any doubt whatsoever that what has been happening here for a year now is...these are the worst crimes against humanity ever, ever, committed.
In the video, Fuellmich provides no documentation, witnesses or other credible independent corroboration of his claims of a global conspiracy. This fact check will address the major claims, not in chronological order.
Fuellmich is an attorney licensed in California with an office address in Goettingen, Germany, where his website says he practices consumer protection law. It is unclear, and not readily confirmed on his website or other online sources, if the "Dr." title he uses refers to his juris doctor degree or if he has medical training.
Claim: Global elites such as those who gather at the World Economic Forum at Davos, Switzerland, caused the epidemic
It's an extraordinary claim whose seriousness demands extraordinary evidence, but Fuellmich supplies only an elaborate conspiracy.
Starting at about six minutes, 30 seconds, Fuellmich describes -- with no documentation or witnesses -- financial misdeeds by the wealthiest, who he says have stolen taxpayer dollars and were about to be caught when he says they turned loose the virus that causes COVID-19. "They started to print money in order to keep us quiet...In late 2019, I believe, when things were, again, coming to a head and things were, again, about to implode. They came up with corona as a diversionary tactic."
While some scientists were disappointed by the Chinese government's refusal to grant full access to the Wuhan infectious diseases lab near the first reported outbreak, a World Health Organization-convened study team reported on March 30, 2021, that the virus likely spread from animals in food markets to humans:
Environmental sampling in Huanan market from right at the point of its closing showed out of 923 environmental samples in Huanan market, 73 samples were positive. This revealed widespread contamination of surfaces with SARS-CoV-2, compatible with introduction of the virus through infected people, infected animals or contaminated products.
In March of 2020, a team of five microbiologists from the U.S., U.K. and Australia, writing in Nature's Medicine journal showed their genetic analysis concluded a human-caused release of the virus from a laboratory was improbable. They wrote that genetic features of the virus more strongly suggest the viruses found in various animals mutated, evolving into the novel coronavirus that thrives in human bodies.
Claim: COVID-19 is no worse than seasonal flu
At 12 minutes, 50 seconds, Fuellmich discounts the effectiveness of public health measures and the seriousness of COVID-19:
Just like every flu season, people get sick, people get seriously sick and some people die. What happened in Italy, in Bergamo, for example, or in New York, is probably...more a result of malpractice than it is a result of the flu or the coronavirus if you want to call it that ...There's something out there, because if it weren't, people wouldn't get sick and people wouldn't die, but as it turns out the infection fatality rate of whatever is going on is no higher than that of the common flu.
A study of hospitalized patients in France, published in Lancet Respiratory Medicine March 1, 2021, found COVID is more likely to kill than is the flu and that while the rate of hospitalization of children for COVID is lower than for flu, there is a higher death rate for in-hospital pediatric COVID patients than for those who have the flu.
Dr. Anthony Fauci, Director of the National Institute of Allergy and Infectious Diseases, has said what makes COVID-19 more dangerous than the flu is that it is more likely to spread, in addition to being lethal for many patients. At this congressional hearing in March of 2020, early in the pandemic, he estimated COVID-19 was 10 times more lethal than seasonal flu. Since then, development of COVID-19 vaccines has changed the outlook for COVID patients and social distancing and masking programs -- rarely used against seasonal flu -- have been shown to slow the spread.
Claim: The World Health Organization is a private organization
At nine minutes, 50 seconds, Fuellmich says the World Health Organization (WHO) is not a governmental organization: "...the WHO, the World Economic Forum, these are private global organizations which have taken control over the entire world. Private organizations, run by the super-rich."
Neither organization is privately owned. WHO is an agency of the United Nations, which is a public entity funded by member nations. UN delegations, appointed by each nation's leaders, select the UN's leadership.
The World Economic Forum is a non-profit foundation founded in 1971 by Prof. Klaus Schwab to encourage governments to work with private enterprise to address global problems. As mandated by Swiss law, it must issue public annual reports on its activities and finances.