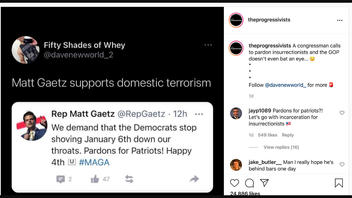 Did Republican Rep. Matt Gaetz of Florida suggest that people associated with the January 6 incident at the U.S. Capitol should be pardoned? No, that's not true: The tweet saying this did not come from his actual Twitter account, and the fake account has since been suspended.
The claim appeared in an Instagram post (archived here) published on July 6, 2021. It included a screen shot of a tweet from the account @RepGaetz that read:
We demand that the Democrats stop shoving January 6th down our throats. Pardons for Patriots! Happy 4th #MAGA
Twitter helps to signify authentic public figures with a blue check mark next to the name on their accounts. Their help pages state that Twitter will verify "Accounts of current key government officials and offices, including heads of state, elected officials, appointed ministers, institutional entities, ambassadors, and official spokespeople." This blue check can be seen next to Matt Gaetz's name on his authentic Twitter account.
The account shown in the image not only lacks the blue check mark, but is from a different account name, not the authentic "@MattGaetz" but the faked "@RepGaetz." The faked account, which was missing that blue check mark, has since been suspended by Twitter: