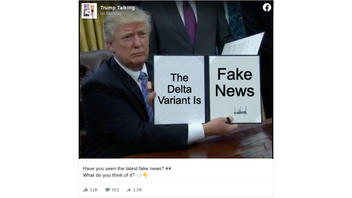 Is the emergence of the Delta variant of the novel coronavirus SARS-CoV-2 "fake news"? No, that's not true: The variant, which has been identified in at least 96 countries, is diagnosed by doctors and public health experts as the cause of deaths and illness around the world.
The claim appeared in a Facebook post (archived here) published on July 5, 2021. The post included a meme of former President Donald Trump holding up a folder containing paper that reads "The Delta Variant Is FAKE NEWS." The caption of the post read:
Have you seen the latest fake news? 👀
What do you think of it? 💭👇
This is what the post looked like on Facebook on July 9, 2021:
(Source: Facebook screenshot taken on Fri Jul 9 15:34:18 2021 UTC)
The Delta variant was first identified in India in December 2020, first detected in the U.S. in March 2021 and was labeled a "variant of concern" by the World Health Organization on May 11, 2021. The WHO defines a variant of concern as one that meets the criteria of a variant of interest (which contains genetic changes that can affect virus characteristics and has "apparent epidemiological impacts to suggest an emerging risk to global public health") along with the following:
... demonstrated to be associated with one or more of the following changes at a degree of global public health significance:

Increase in transmissibility or detrimental change in COVID-19 epidemiology; OR
Increase in virulence or change in clinical disease presentation; OR
Decrease in effectiveness of public health and social measures or available diagnostics, vaccines, therapeutics.
Since its emergence in the U.S., the Delta variant is estimated to have become the leading variant of the novel coronavirus in the U.S., as shown in the growing orange elements of the seven-month bar chart in this screenshot from the CDC: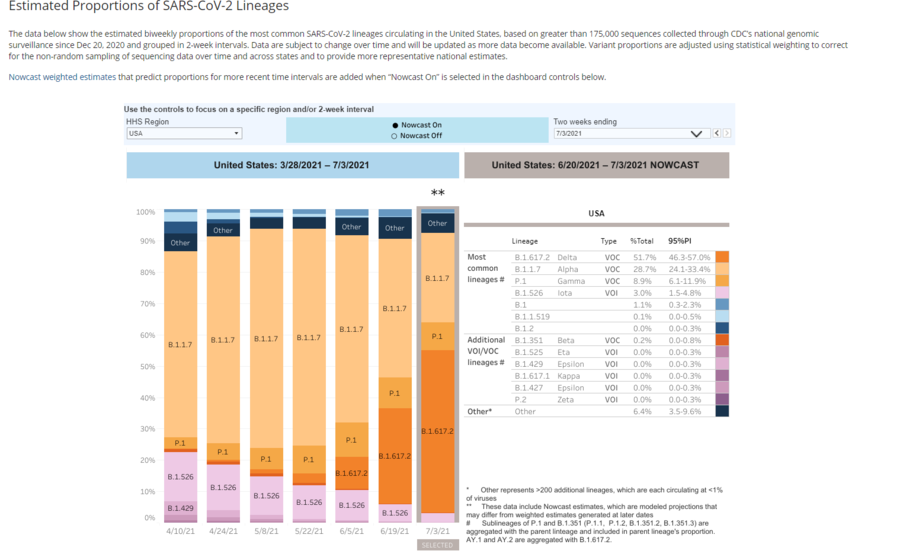 (Source: CDC Screenshot of "Estimated Proportions of SARS-CoV-2 Lineages" taken on Fri Jul 9 15:18:48 2021 UTC)
Additionally, the threat of COVID-19 is not over. As of July 9, 2021, the WHO's most recent weekly data showed that total COVID-19 cases around the world slightly increased, while total deaths from COVID-19 continued to decrease.
The image used to support the "fake news" claim is a version of a 2017 photo of Trump holding up an executive order in the Oval Office with the claim's text crudely overlaid over it. The executive order pose became commonplace in the Trump administration, as he signed 220 executive orders during his four years in office.