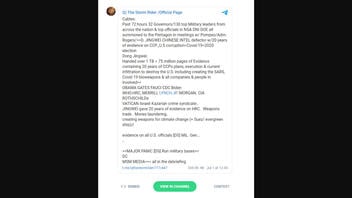 Were 32 governors at the Pentagon, either because they were detained there or because they were meeting with the former head of the CIA and top military officials in late June or early July 2021? No, there's no evidence that's true: Posts making the claim did not include any support to substantiate the claim and a spokesperson for the Pentagon said it was false.
An example of the claim appeared in a Telegram post (archived here) on July 1, 2021. The post, from "Q) The Storm Rider," opened:
Cables: Past 72 hours 32 Governors/130 top Military leaders from across the nation & top officials in NSA DNI DOE all summoned to the Pentagon in meetings w/ Pompeo/Adm. Rogers
Users on social media saw this at the time of writing:
Other posts picked up and ran with the phrase, "32 governors," although some changed the purported reason why the governors were allegedly at the Pentagon. A search on Twitter revealed a number of posts, like the one below, that claim the 32 governors were detained.
PELOSI GITMO!!! 32 GOVERNORS DETAINED AT THE PENTAGON. July 5, 2021https://t.co/maXVCnKSvO pic.twitter.com/5vGHH4f28g

-- The LORD (@MadWorldJS1) July 6, 2021
Crowdtangle, a Facebook tool used by Lead Stories to analyze the virality of social media posts, shows the phrase, "32 governors" had a spike in interactions on July 4, 2021.
Lead Stories reached out to the Pentagon to ask whether the claim about the 32 governors is true. A duty officer responded in an email, dated July 9, 2021, writing:
There is no truth to these claims. This is false.
Lead Stories also conducted searches on Bing, DuckDuckGo and Google and found no credible corroboration of there being 32 governors at the Pentagon. Although none of the posts specify which governors were allegedly there, it seems improbable to the point of impossible that such a trip could be organized without any news media, which track governors' movements, reporting the event.
At the time this fact check was written, Mike Pompeo was the former head of the CIA and Statista.com tallied 27 Republican governors and 23 Democratic governors in office.