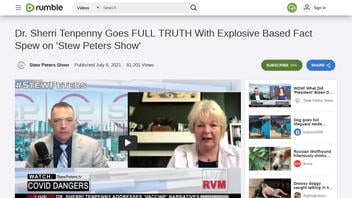 Does an interview with Dr. Sherri Tenpenny contain only accurate and factual statements about COVID-19 and vaccines? No, that's not true: The interview, which appeared on the "Stew Peters Show," is full of false and misleading claims. For example, Tenpenny alleges that COVID-19 vaccines are not effective, that they cause harm and that they make our bodies magnetic. None of those claims are correct, as shown by prior fact checks, and all are missing important context. Tenpenny also alleges that COVID-19 and the vaccines are part of a grand plan to control the world's population. There is zero evidence that conspiracy theory is true.
The interview (archived here) was posted by the "Stew Peters Show" on Rumble on July 6, 2021. Titled, "Dr. Sherri Tenpenny Goes FULL TRUTH With Explosive Based Fact Spew on 'Stew Peters Show,'" the video shows Tenpenny saying:
COVID-19 is a collection of symptoms that are like the flu.
Users on social media saw this title, description and thumbnail:
Stew Peters was joined by Dr. Sherri Tenpenny, and the conversation was an absolute revelation of exactly what's happening with the so-called 'vaccines'. www.StewPeters.tv | www.DrTenpenny.com
Lead Stories has previously looked into the question of whether COVID-19 is like the flu. It's not. COVID-19 is more easily transmitted than the flu and it is significantly more lethal. See our previous fact checks on the subject here, here and here.
In her roughly 25-minute interview, Tenpenny makes a number of other false claims. We don't address all of them in this fact check, but we'll address five of the main ones below.
Claim #1: COVID-19 vaccines aren't really "vaccines."
At 3:07, Tenpenny claims:
I refuse to call them vaccines because they're not, and so the injections are actually what's causing the greatest amount of harm.
That's not true. As we've reported before, the vaccines for COVID-19 clearly meet the definition of "vaccine" set by the Centers for Disease Control and Prevention (CDC), which can be read here and states that a vaccine "stimulates a person's immune system to produce immunity to a specific disease, protecting the person from that disease." See here for that fact check.
It's also not true that the vaccines are "what's causing the greatest amount of harm." Although common side effects can include tiredness, pain and fever, serious side effects are rare, according to the CDC, which follows up on any reports of death after COVID-19 vaccination. To date, there have been some 33.6 million cases of COVID-19 in the United States and more than 603,000 deaths.
Claim #2: COVID-19 vaccines are not effective.
At 4:17, Tenpenny addresses vaccine manufacturers, claiming:
All of them say clearly this is not intended to keep you from getting sick. It doesn't stop transmission; it won't lower your death rate; it won't keep you from being in the hospital.
No vaccine is 100% effective; however, all of the approved vaccines are effective at preventing COVID-19 and "related serious outcomes, including hospitalization and deaths," according to the Food and Drug Administration (FDA). According to the CDC, the Pfizer vaccine is 95% effective; the Moderna shot is 94% effective and the Johnson & Johnson vaccine is 66% effective at preventing infection. See some of our previous fact checks on the effectiveness of COVID-19 vaccines here, here and here.
Claim #3: PCR tests aren't accurate.
Tenpenny alleges at 4:35:
They're using a PCR test that was never ever intended to be used in clinical medicine ever. They don't know what they're talking about in terms of the CT values. The CT value, anything greater than 35 is a false positive.
CT refers to cycle threshold, which is the number of cycles needed to detect the virus. The greater the number of cycles, the higher the sensitivity of the test. We explained how the process works in this fact check, as well as addressed the specific claim about PCR tests having an accuracy of 0% when more than 35 cycles are used. That's not true. At higher cycle thresholds, the virus may not be viable and a patient may not be infectious, but that doesn't mean the patient doesn't have the disease. The PCR test is the most widely used and trusted test for diagnosing COVID-19.
Claim #4: The vaccines make people magnetic and cause women to miscarry.
Around the 8-minute mark, Peters and Tenpenny discuss miscarriages as a possible side effect of COVID-19 vaccines. Around the 12:28 mark, Tenpenny launches into an explanation of a study that supposedly found that the vaccines make our bodies magnetic. She says:
Of the ones that had had an injection, 29 out of 30 of them were able to take a key or a coin or a spoon or something and make it stick to their body over the area where they had been injected.
Again, Lead Stories has looked into those claims before and found them to be lacking credible support. There is nothing in the vaccines that would make people magnetic, as can be seen here. There is also no evidence to support a connection between miscarriages and the COVID-19 vaccines, as can be seen here.
Although there is still limited information on the safety of the shot during pregnancy, the data collected so far have not identified "any safety concerns for pregnant people who were vaccinated or for their babies." That's according to the CDC which says on its website that experts believe the vaccines are unlikely to pose a risk to pregnant people, based on what doctors know about how the vaccines work in the body.
Claim #5: COVID-19 and the vaccines are part of a global plan to control the population.
At 18:12, Tenpenny says:
They want everyone either sick or dead and the ones that are sick, they want to be able to control them.
Asked by Peters who "they" are, she responds:
The World Economic Forum is the head of the pin in my opinion.
Tenpenny accuses Klaus Schwab, executive chairman of the World Economic Forum, of writing in his book that "we need to get rid of about 4 billion people."
There's zero evidence to support such claims. As Lead Stories has previously reported, a "useless eaters" text in a photo is not from Schwab's book. The vaccines are not set to contribute to the "decimation of the world's population" and lockdowns are not about control, rather than health.
Tenpenny's comments fit neatly into the paradigm of "The Great Reset," a conspiracy theory that posits an evil cabal is using the pandemic as a pretext. In some versions of the theory, shadowy elites orchestrated COVID-19 to seize power; in others, the virus just presents the opportunity for them to do so. See our debunk of "The Great Reset" here.