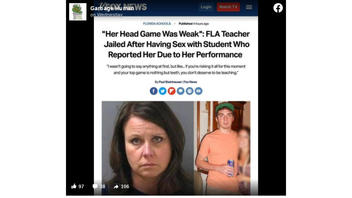 Was a Florida teacher jailed after having sex with a student who then reported her because of her poor performance? No, that's not true: While a post making the claim does not give the teacher's name, the screenshot of a purported FOX News article uses a photo of an Alabama teacher arrested in 2017 and sent to prison in 2021 for having sex with two students. The FOX reporter whose name appeared on the byline confirmed to Lead Stories that he did not write the story.
The claim appeared as a post (archived here) posted by the Garbage Human Facebook page on July 7, 2021, with the headline "'Her Head Game Was Weak': FLA Teacher Jailed After Having Sex with Student Who Reported Her Due to Her Performance." It opened with a quote from the purported student:
I wasn't going to say anything at first, but like... if you're risking it all for this moment and your top game is nothing but teeth, you don't deserve to be teaching.
This is what the post looked like on Facebook at the time of writing:
(Source: Facebook screenshot taken on Fri Jul 9 15:38:49 2021 UTC)
The purported article is sparse on details. It does not name the teacher, the school or the city in Florida. Much of what it does include is easily proven false. The FOX reporter named in the byline on the story is a politics reporter based in New Hampshire. Lead Stories showed him the screenshot and he confirmed he did not write the article.
The mugshot of the teacher is not from Florida. It is the mugshot of a Decatur, Alabama, teacher arrested in 2017 for having sex with two male students. She was sentenced to prison in July 2021, according to WAAY-TV.
BREAKING NEWS: former #Decatur #Alabama teacher sentenced to
in 10 years /registered as a sex offender. @WAAYTV has you covered on this case that has attracted National media coverage and played out over more than FIVE year legal battle.

BACKGROUND: https://t.co/aHgWR6IUtt pic.twitter.com/VxJv0iTxHy

-- Matt Kroschel (@Matt_Kroschel) July 1, 2021
Another major mistake in the fake story is it includes a photo that apparently was intended to depict the teenaged victim. It would be illegal and unethical for a news outlet to identify the minor victim of a sex crime.