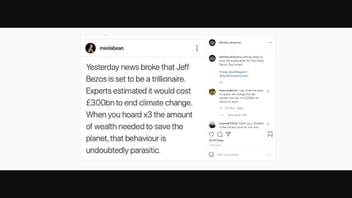 Is Jeff Bezos, the founder and former CEO of Amazon, on his way to becoming a trillionaire, thereby having more than three times the wealth needed to "save the planet"? No, that's not true: Although Bezos is the world's richest person with a net worth of more than $200 billion, his potential trillionaire status is just a projection. Additionally, the theory that $300 billion could help slow climate change is just one estimate proposed by scientists to slow, not stop, climate change.
The claim appeared in an Instagram post (archived here) published on July 9, 2021. It featured a screenshot that read:
Yesterday news broke out that Jeff Bezos is set to be a trillionaire. Experts estimated it would cost £300bn to end climate change. When you hoard x3 the amount of wealth needed to save the planet, that behaviour is undoubtedly parasitic.
This is how the post looked on Instagram on July 12, 2021:
(Source: Instagram screenshot taken on Mon Jul 12 18:33:12 2021 UTC)
The Bloomberg Billionaire Index calculates the net worth of the world's wealthiest individuals and is updated daily. As of July 11, 2021, Bezos topped the list, at $213 billion. "Net worth" is the total amount of a person's assets minus liabilities and obligations (debts).
The belief that Bezos is on the way to being a trillionaire may have arisen from business advice platform Comparisun called "The Trillion Dollar Club." It projected that Bezos may be worth $1 trillion by 2026. But the time frame is an estimate:
Despite losing an estimated $38 billion as part of his recent divorce, Jeff Bezos is still by far the world's richest person and his net worth has grown by 34% on average over the last five years, which could potentially see him become the world's first trillionaire as early as 2026, at which point he'll be aged 62.
Therefore, Bezos is not currently holding on to $1 trillion of wealth, and is not worth enough to "end climate change" at the time of writing.
The Instagram user who posted the claim followed with two posts (here and here, with screenshots included respectively below) published on July 11, 2021:
(Source: Instagram screenshot taken on Mon Jul 12 20:05:48 2021 UTC)

(Source: Instagram screenshot taken on Mon Jul 12 20:06:13 2021 UTC)
The posts were screenshots of an article from Time published in 2019. Scientists from the United Nations proposed that soil restoration, which could greatly aid in slowing detrimental climate change, could be achieved with about $300 billion and other contributing factors like political decisions:
Rene Castro Salazar, an assistant director general at the UN Food and Agriculture Organization, said that of the 2 billion hectares (almost 5 billion acres) of land around the world that has been degraded by misuse, overgrazing, deforestation and other largely human factors, 900 million hectares could be restored.

Returning that land to pasture, food crops or trees would convert enough carbon into biomass to stabilize emissions of CO2, the biggest greenhouse gas, for 15-20 years, giving the world time to adopt carbon-neutral technologies.

"With political will and investment of about $300 billion, it is doable," Castro Salazar said. We would be "using the least-cost options we have, while waiting for the technologies in energy and transportation to mature and be fully available in the market. It will stabilize the atmospheric changes, the fight against climate change, for 15-20 years. We very much need that."
Other methods, including utilizing renewable energy and developing more environmentally friendly infrastructure, have been proposed as methods to slow climate change.
Additionally, the Instagram user incorrectly equates £300 billion with $300 billion. Although the pound currency symbol is used in different countries around the world, the most common association is with the United Kingdom pound system. At the time of writing, £300 billion, as the post uses, converted to U.S. dollars is more than $416.4 billion.