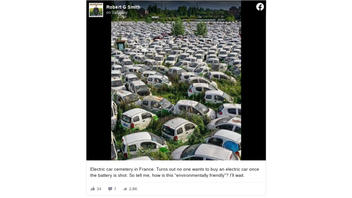 Is this an electric car "cemetery" in France, full of cars that became worthless due to battery failure? No, that's not true: The caption attached to this photo is misleading on two counts: First, the photo has been misidentified as being a car cemetery in France. There are similar photos circulating online that do show decommissioned electric cars stored in a parking lot in France, but this photo shows electric cars parked in Hangzhou, China. Second, although not identical to the situation in France, it appears these electric cars were also decommissioned not due to a battery or mechanical failure, but because of problems with a company's business model, oversupply in a market, and low demand.
The image of the electric cars parked in a lot overgrown with weeds appeared in a post published on Facebook on July 10, 2021. It was captioned:
Electric car cemetery in France. Turns out no one wants to buy an electric car once the battery is shot. So tell me, how is this "environmentally friendly"? I'll wait.
This is what the post looked like on Facebook at the time of writing:
(Source: Facebook screenshot taken on Mon Jul 12 14:21:04 2021 UTC)
Lead Stories was unable to identify the date of the photo that appears in this Facebook post or when it was first published online but did confirm the photo shows a car lot in Hangzhou, China. Other photos of decommissioned electric cars parked in Hangzhou, China appeared in several articles in 2019. Many of those 2019 photos appear to show cars parked in very neat rows on an asphalt parking lot -- unlike like the haphazard jumble of cars in weeds that is shown here. Comparing the buildings in the background of the photo from the Facebook post (outlined in red below) with images in the slideshow in an April 25, 2019 article in shanghai.ist (lower left), Lead Stories found a photo that matched the rooflines of the Hangzhou buildings and the radio tower. While the 2019 slideshow shows many cars parked on asphalt, other parts of the lot are not paved. Due to the changes in vegetation, the photo in this Facebook post appears to have been taken more recently than 2019.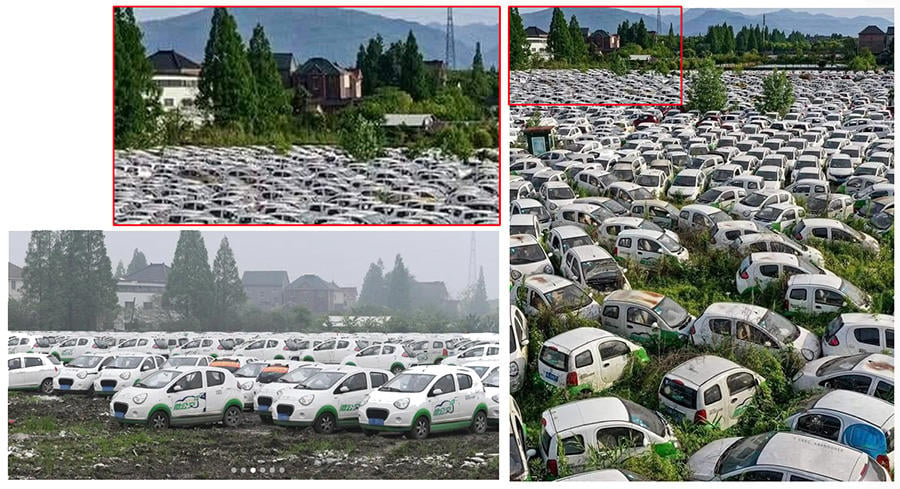 (Source: Lead Stories comparison image from screenshots taken on Mon Jul 12 15:57:00 2021 UTC)
The slideshow appears in a shanghai.ist article titled, "LOOK: Hundreds of electric cars rust away at "shared car graveyard" in Hangzhou The latest casualties of China's struggling sharing economy." That article refers to an earlier March 25, 2019 South China Morning Post report in Abacus titled, "Thousands of shared electric cars seen discarded in Hangzhou Is 'car-sharing' going down like 'bike-sharing'?". The Abacus report identifies these cars as belonging to Microcity. The article suggests Microcity appears to be no longer in operation. The company denied that, but no available cars showed up on its app. Lead Stories was not able to find any evidence if or when Microcity ceased operation. The Abacus reporter wrote:
Microcity is among the hundreds of 'car-sharing' companies that appeared in the past few years, with the most popular ones deploying tens of thousands of vehicles across China. Their growth was sparked partially by attempting to cash in on the sharing economy (even though, again, this is closer to rental than sharing) and the abundance of EVs in China, thanks to heavy government subsidies for new energy car makers.

But it appears to have been a bumpy ride so far, as several car-sharing startups have gone bust last year. In January, state broadcaster CCTV questioned the business model of 'car-sharing' and whether the companies are really improving city traffic, since they're putting more cars on the road.
Geely, which owns Volvo and London Electric Vehicle Company, has its main assembly plant in Hangzhou, China. A December 20, 2017, report in consultancy.asia titled, "Car sharing in China to boom, yet profitability remains a challenge" describes the heavily subsidised and interconnected electric car manufacturing and car sharing business model before the downturn:
For example, Microcity, founded in 2013, the largest player so far in China, has strong support from Geely. All of its vehicles are provided by Kandi EV, the joint venture between Geely (50 percent) and Kandi Group (50 percent). With substantial support from the Hangzhou government, including free parking spaces and a subsidy for infrastructure construction and charging, it had approximately 11,000 vehicles in operation by late 2016.
An April 14, 2019, article on Bloomberg.com (archived here) predicted that cuts to government subsidies would cause many of the electric car manufacturing startups to close:
That's because of a seismic shift toward EVs, which has spurred billions of dollars in investments by traditional carmakers, startups and titans of the internet, electronics and real-estate industries. The rush is on even as the government pulls back on the subsidies that juiced the industry to begin with.

There are now 486 EV manufacturers registered in China, more than triple the number from two years ago. While sales of passenger EVs are projected to reach a record 1.6 million units this year, that's likely not enough to keep all those assembly lines humming, prompting warnings that the ballooning EV market could burst and leave behind only a few survivors.
Lead Stories wrote about the boneyard near Paris where electric cars from the decommissioned Bluecar fleet from the failed Autolib program were stored without their batteries.