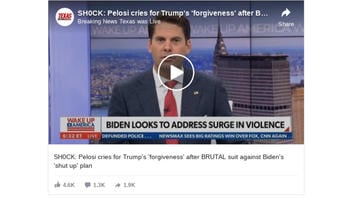 Does a video titled "Pelosi cries for Trump's 'forgiveness' after BRUTAL suit against Biden's 'shut up' plan" include discussion about a Pelosi cry for Trump's forgiveness? No, that's not true: House Speaker Nancy Pelosi's name is mentioned four times in the 29-minute segment from a Newsmax broadcast, but never in reference to any cry for forgiveness from former President Donald Trump.
The word "forgiveness" is not mentioned at all in the segment. The video is instead about Trump's lawsuit against Facebook, Twitter and YouTube, along with a discussion on "critical race theory." The title is just bait for people to click on the post.
The claim appeared in a Facebook post (archived here) on July 8, 2021, under the title "SH0CK: Pelosi cries for Trump's 'forgiveness' after BRUTAL suit against Biden's 'shut up' plan." It opens:
Former special assistant to President Trump and commentary editor for the Washington Times Kelly Sadler is with us. National advisory board member for Project 21 Christopher Arp is back with us and former Trump campaign manager Rick Gates is here. Good morning to all, good morning, good morning. Let's start with, uh, with President Trump, this class action lawsuit yesterday. He's going to be suing the big tech giants, Facebook, Google, Twitter. I don't think people realize that Instagram, which is very popular now, is owned by Facebook. Alphabet Inc., which owns Google also owns YouTube. We're talking about a handful of people that control almost everything that we have access to on the internet.
This is what the post looked like on Facebook at the time of writing:
(Source: Facebook screenshot taken on Thu Jul 8 21:55:39 2021 UTC)
While hundreds of thousands of Facebook and YouTube users clicked on the video the day it was uploaded to those platforms expecting to hear that Pelosi, the Democrat from California, was crying for Trump's "forgiveness" after he filed a "BRUTAL" lawsuit against a Biden plan, there is no discussion of that in the video. These screenshots show the context of the four times any of the speakers on the Newsmax panel mentioned her name: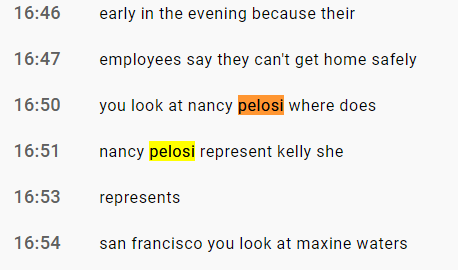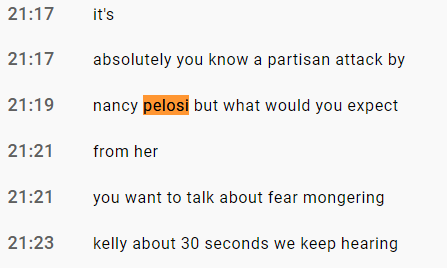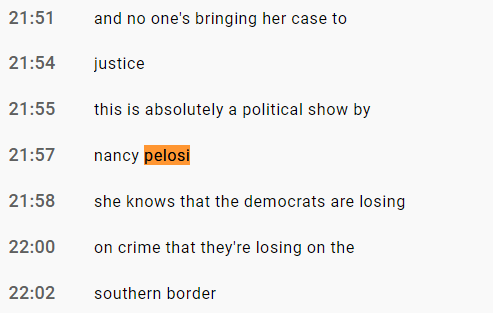 We could find no references while watching the video or reading the transcript to "forgiveness" or to a lawsuit -- brutal or not -- against a Biden plan. Beyond that, Lead Stories has been unable to find any references to a Trump lawsuit against a Biden plan or a Pelosi cry for forgiveness.
The first segment of the video did focus on Trump's lawsuit against social media companies, but that ended before Pelosi's name was brought up 16 minutes into the video. References to Pelosi related to a debate over the teaching of critical race theory.
We are not fact-checking the video itself, just the title and description used to lure people to start watching it.