STORY UPDATED: check for updates below.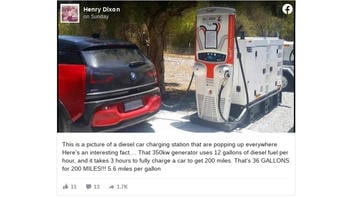 Did a Facebook user prove that diesel-powered generators for electric vehicles are wildly inefficient? No, that's not true: An expert engineer said their math is wrong, plus, because generators run at a constant speed, and car engines do not, the generator is always going to be more energy efficient.
The claim originated in a Facebook post (archived here) published on July 1, 2021. The post reads:
This is a picture of a diesel car charging station that are popping up everywhere. Here's an interesting fact.... That 350kw generator uses 12 gallons of diesel fuel per hour, and it takes 3 hours to fully charge a car to get 200 miles. That's 36 GALLONS for 200 MILES!!! 5.6 miles per gallon
This is what the post looked like on Facebook at the time of writing:
(Source: Facebook screenshot taken on Thu Jul 8 14:31:20 2021 UTC)
(Editor's note: It has been brought to our attention by an alert reader that our expert, David Reichmuth, misstated a conversion factor. When he says, below, "Most cars added 200 miles in a little over an hour, using the more moderately-powered 50 kW DC charging unit", he should have said "200 kilometers" to coincide with the table featured in The Drive article.

Contacted by Lead Stories, Reichmuth also noted that the mpg equivalent should have been miles per gallon of diesel. There would need to be a conversion in order to compare the efficiency in miles per gallon of gasoline. Diesel has about the same amount of energy as 1.12 gallons of gasoline, according to the Alternative Fuels Data Center.

The conversion factors do not change the overall conclusion: that the fuel efficiency of generator-charged electric cars is lower than that of cars powered by onboard internal combustion engines.
Lead Stories emailed David Reichmuth, a senior engineer of the Clean Transportation Program for the Union of Concerned Scientists, on July 7, 2021, about this claim and he responded the same day. He previously debunked another claim about electric cars and how they wouldn't fail their driver if they were stuck in a traffic jam for three hours.
This is completely false.

Let's breakdown the errors: This is a picture of a diesel car charging station that are popping up everywhere

This picture is of a diesel generator powering an electric vehicle charger. However the 'popping up everywhere' is the exact opposite of the truth. This was an experiment by an Australian engineer to see if this would work to allow charging in remote parts of Australia.

This experiment is not the norm and EV chargers are nearly always tied to the existing electric grid.

The article about the diesel generator experiment is very detailed, and all of the numbers in the facebook post are wrong. The charging unit was a 50kW charger and used about 12 liters/hour, not gallons. (12 liters = 3.2 gallons). So all of the numbers follow are wrong based on that error. (but there are still more errors)

How long it takes to get 200 miles of range added depends on both the car and the charging power. If it truly was a 350 kW charger, the Tesla models could add 200 miles in as little as 15 min. But for this claim, we can look at the data table in the article Most cars added 200 miles in a little under an hour, using the more moderately-powered 50 kW DC charging unit.
The photo used in the Facebook claim is from a 2018 article about the experiment Reichmuth discusses above. This is what the data table from article looked like at the time of writing: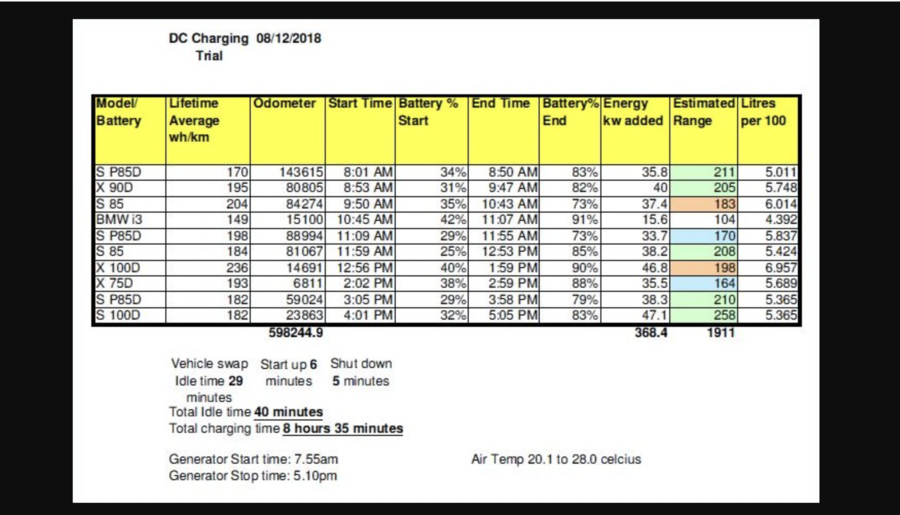 (Courtesy of TOCWA) (Source: The Driven article screenshot taken on July 8 15:20:44 2021 UTC)
Reichmuth concludes:
Of course, since the claim got the gallons of fuel and the charging times wrong, this miles per gallons is going to be incorrect. Again, we can look at the source article that measured precise fuel use for charging. They found the equivalent of 54 miles per gallon for the BMW i3, 39-47 miles per gallon for the Tesla Model S, and 34-41 miles per gallon for the Tesla Model X SUV. The article notes that these are lower fuel consumption than some similar cars available in Australia. So, even as an emergency charging source in the Australian Outback, this solution is probably more energy efficient than conventional fuels. And given that nearly 100% of actual charging will come from grid electricity, these electric cars will be much more fuel efficient than a gasoline or diesel vehicle.
2021-07-27T17:18:35Z

2021-07-27T17:18:35Z

Updated to reflect an alert reader's catch that the original version included a conversion factor error that did not change the validity of the overall conclusion, but needed to be cleaned up.

2021-07-27T17:18:30Z

2021-07-27T17:18:30Z