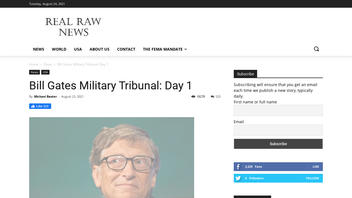 Is Bill Gates on trial before a military tribunal on charges of trafficking children? No, that's not true: A duty officer at the Pentagon told Lead Stories: "No." And Gates has been active on social media during the time of the supposed tribunal.
The story originated from a Real Raw News article published on August 23, 2021, titled, "Bill Gates Military Tribunal: Day 1" (archived here), which opened:
Vice Adm. John G. Hannink of the U.S. Navy Judge Advocate General's Corps tore into Bill Gates at the start of a military tribunal that is expected to last several days.
Here's how the article looked on August 25, 2021: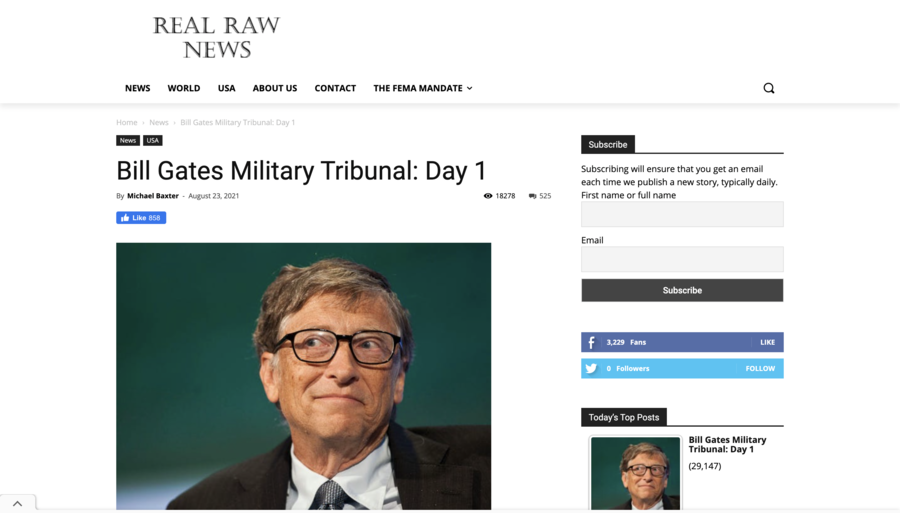 Asked about the story, a duty officer at the Pentagon wrote in an August 25, 2021, email to Lead Stories:
No. Military tribunals, in the United States, are military courts designed to trial members of enemy forces during wartime.
Real Raw News has a history of publishing false claims in mock news stories, many of them about convictions and executions of various public figures at Naval Station Guantanamo Bay in Cuba. For example, the site reported former Secretary of State Hillary Clinton was hanged (she wasn't); former White House Chief of Staff John Podesta was executed (he wasn't); and that "the military" convicted former Attorney General William Barr on charges of treason (it didn't).
The website for Real Raw News includes a disclaimer that warns readers not to take its content too seriously. Specifically, it says:
Information on this website is for informational and educational and entertainment purposes. This website contains humor, parody, and satire. We have included this disclaimer for our protection, on the advice on legal counsel.
Lead Stories has covered claims published by Real Raw News in the past. Previous Lead Stories debunks of Real Raw News items is collected here.
Bill Gates' Twitter account shows that his latest tweet was on August 24, 2021, in which he retweeted a tweet from "The Daily Show." Gates' latest tweet reads:
I don't think any of @ronnychieng's innovations are ready to bring to market. Luckily, brilliant scientists and engineers around the world have developed hundreds of exciting solutions that will prevent illness and death.