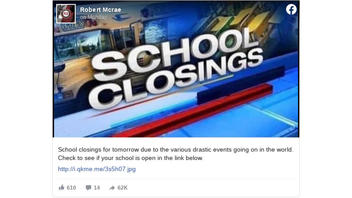 Were schools planning on closing on August 10, 2021, due to "drastic events going on in the world"? No, that's not true: social media posts that made the claim included a link that led users to a meme indicating the post was a spoof.
The claim appeared in several Facebook posts published on August 9, 2021, including this one (archived here). It featured an image that looked similar to a news graphic with text that read "School Closings." The caption of the post read:
School closings for tomorrow due to the various drastic events going on in the world. Check to see if your school is open in the link below.

http://i.qkme.me/3s5h07.jpg
This is what the post looked like on Facebook on August 11, 2021:
(Source: Facebook screenshot taken on Wed Aug 11 15:09:58 2021 UTC)
When users clicked on the link, a meme appeared. A screenshot of the meme as it appeared through the link is included below: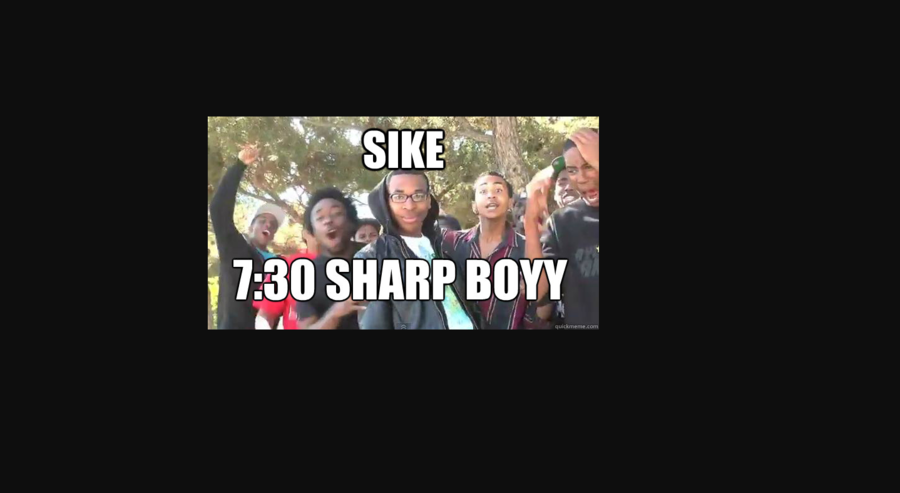 (Source: Meme screenshot taken on Wed Aug 11 14:50:21 2021 UTC)
The post was clickbait, which is used to attract attention and engagement to Internet content.
Lead Stories conducted Google search engine searches for "school closures due to drastic events" and "school closures August 10 2021." No results indicating that this post was anything more than a joke appeared.
Lead Stories previously debunked prank posts claiming that schools would be closed the week of August 9 to August 13, 2021.