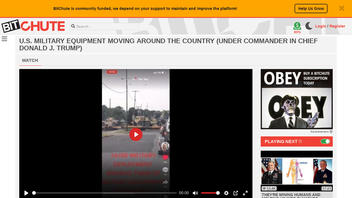 Is U.S. military equipment moving around the country "under Commander in Chief Donald J. Trump"? No, that's not true: Trump is no longer president per Article 20 of the U.S. Constitution, by which Joe Biden became president on January 20, 2021, at noon.
There is no evidence the video shows a "huge military deployment," as moving equipment is "very common," the Missouri National Guard told Lead Stories. The video was posted on the channel of Timothy Charles Holmseth, a conspiracy theorist whose claims Lead Stories has debunked on four prior occasions.
The claim appeared as a video published on BitChute on August 5, 2021, titled "U.S. MILITARY EQUIPMENT MOVING AROUND THE COUNTRY (UNDER COMMANDER IN CHIEF DONALD J. TRUMP)" (archived here), which opened:
Today is Wednesday, August 4th. This is southeastern Missouri.
Users on social media only saw this title, description and thumbnail:
www.timothycharlesholmseth.com
There are two clips in the video of military equipment being transported on a train, one claiming to be from Missouri and another from Palm Springs, California.
The voice on the video says:

Today is Wednesday, August 4th. This is southeastern Missouri. This never happens here. I've been here for years, this has never happened. This is literally maybe a fourth of the train that's went by before I got here. This is a big train and that is a lot of military equipment, folks. But nothing's up. Nothing to see here folks. Nothing to see here. Today is August 4th, 2021. Southeastern Missouri.
The video has the caption: "HUGE MILITARY DEPLOYMENT MASSIVE TRAIN OF MILITARY EQUIPMENT 8-4-21 6:26 PM."
The Missouri National Guard public affairs office told Lead Stories via email on August 17, 2021, it could not confirm or contradict the claims made in the video:
The Missouri National Guard participates in numerous exercises and events, not only within our state, but throughout the U.S. and with our international partners. The transportation of military equipment, in both reserve and active components by rail or roadway for routine purposes such as maintenance or annual training is very common. Due to the quality of the video, it's difficult to determine if the military equipment show belongs to the Missouri National Guard."
Lt. Col. Anton Semelroth, spokesperson at the Office of the Secretary of Defense, told Lead Stories via telephone on August 11, 2021, that he could not confirm details of the video as the Department of Defense firewall prevented him from viewing it.
Lead Stories has debunked baseless claims that Trump is still the president and presiding over the military, which you can read here and here.