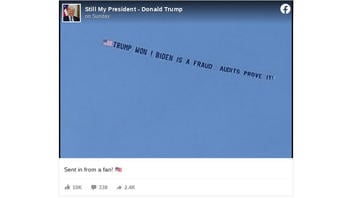 Did Trump win and do the audits prove that he is the president? No, that's not true: Donald J. Trump lost the 2020 presidential election to Joe Biden. Trump received 74 million votes to Biden's 81 million votes, and Biden received 306 electoral college votes while Trump only received 232 electoral college votes.
The claim appeared as a post (archived here) where it was published on Facebook on August 1, 2021. It opened:
Sent in from a fan!
This is what the post looked like on Facebook at the time of writing:
(Source: Facebook screenshot taken on Mon Aug 2 21:55:26 2021 UTC)
Trump did not win the 2020 presidential election, Biden is the legitimate president who won the most electoral college votes. The election was not "stolen" and Lead Stories has debunked numerous claims of election fraud. See a sampling of those stories here.
Biden took the oath of office at 11:48 am on January 20, 2021. However, the 20th Amendment to the United States Constitution determines when a new president's term begins and the outgoing president's term ends. It is not based on the exact time of the oath:
Section 1
The terms of the President and the Vice President shall end at noon on the 20th day of January, and the terms of Senators and Representatives at noon on the 3d day of January, of the years in which such terms would have ended if this article had not been ratified; and the terms of their successors shall then begin."
The "audits" are not proving that Trump won. The "audit" in Arizona, a state that Biden won, netting its electoral college votes, is a Republican post-election review in Maricopa county by a contractor paid in part by pro-Trump organizations. The audit has revealed zero evidence of fraud in the presidential election as of August 2, 2021, according to AZCentral.com.