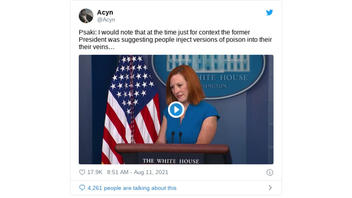 Did Donald Trump suggest "people inject versions of poison into their veins"? No, that's not true: Although he speculated in 2020 that injecting disinfectant could have a curative effect on COVID-19, he stopped short of telling people to do it. Then-President Trump appeared to call for research on the possibility and later sought to distance himself from those comments, saying he'd spoken "sarcastically."
The claim appeared in a Twitter post (archived here) published on August 11, 2021. The post, which cited White House Press Secretary Jen Psaki, read:
Psaki: I would note that at the time just for context the former President was suggesting people inject versions of poison into their their veins...
This is what the post looked like at the time of writing:
(Source: Twitter screenshot taken on Thu Aug 12 14:10:45 2021 UTC)
Psaki's comments were made during a press briefing on August 11, 2021. The full transcript of that briefing can be read here. In response to a question about whether Joe Biden, then a candidate for president, created hesitancy around COVID-19 vaccines, Psaki said:
Not that we've seen in the data. I would note that at the time, just for context, the former president was also suggesting people inject versions of poison into their veins to cure COVID. So I think that's a relevant point.
Psaki was referring to remarks Trump made on April 23, 2020. During a White House Coronavirus Task Force news conference, he brought up the possibility of injecting disinfectant. Trump said, in part:
And then I see the disinfectant, where it knocks it out in a minute. One minute. And is there a way we can do something like that, by injection inside, or almost a cleaning? 'Cause you see it gets in the lungs and it does a tremendous number on the lungs, so it'd be interesting to check that. So that, you're going to have to use medical doctors with, but it sounds interesting to me, so we'll see.
As can be seen in his comments, Trump was suggesting that injecting disinfectant could be viable option for treating COVID-19 and urging research. He stopped short, however, of suggesting people actually inject it.

You can watch his comments here:
One day later, Trump was asked to clarify his remarks about injections of disinfectant and he sought to distance himself from them. He responded:
I was asking a question sarcastically to reporters just like you, just to see what would happen.
Sarcasm is subjective, but what's clear is that injecting disinfectants is a very bad idea.
In response to the confusion created by Trump's comments, the makers of Lysol and Dettol released a statement on April 24, 2020, saying "that under no circumstance should our disinfectant products be administered into the human body."
Lead Stories has written about Trump's remarks before. See here and here for those stories, in which we found that he did not suggest Americans drink disinfectant, nor did he tell people to inject it.