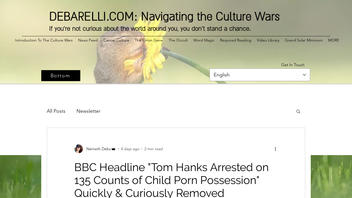 Did a BBC News Online headline report that Tom Hanks was arrested on 135 counts of child pornography possession? No, that's not true: Although an image attributed to BBC News Online displays that headline, along with a picture of Hanks and his wife Rita Wilson, no such headline was posted to the website, according to the BBC. The image of the headline is clearly digitally manipulated.
The claim appeared in a blog post titled "BBC Headline 'Tom Hanks Arrested on 135 Counts of Child Porn Possession' Quickly & Curiously Removed" that was published in June 2021. The post featured a picture of the supposed headline and opened:
Who at the BBC gave the 'Ok' for this curious headline to be published? What would be the purpose and/or intention of publishing and then removing such an inflammatory article? Where is the BBC trying to lead its impressionable reader/viewership? When was this article first posted and when was it removed? Why would the BBC post such a defamatory headline in the first place? How has this flown under the radar of the other mainstream media news outlets, escaped the news cycle, and the social media hyenas?
This is how the blog post appeared on June 24, 2021:
After using Google's search engine to search the entirety of BBC News Online's website, Lead Stories could not find results consistent with the headline for "Tom Hanks was arrested," "Tom Hanks pornography" or "Tom Hanks 135." Additionally, no other credible news outlets in the U.S. or abroad reported the supposed arrest. In fact, several results for news articles that mentioned both "Tom Hanks" and "arrested" were fact checks that debunked similar allegations.
In an email to Lead Stories on June 24, 2021, Philly Spurr, head of communications for BBC World Service, said:
I can confirm this article isn't true - we did not post this story.
The digital manipulation of the webpage is apparent given its inconsistencies. Underneath the supposed headline, there are links to resources about the novel coronavirus, which do not relate to child pornography charges. Additionally, there is a pop-up on the upper right-hand corner of the headline image that indicates the dimensions of a web page element. Such dimensions appear when an element is inspected in Google Chrome's DevTools. These discrepancies are noted in circled portions of the screenshot below: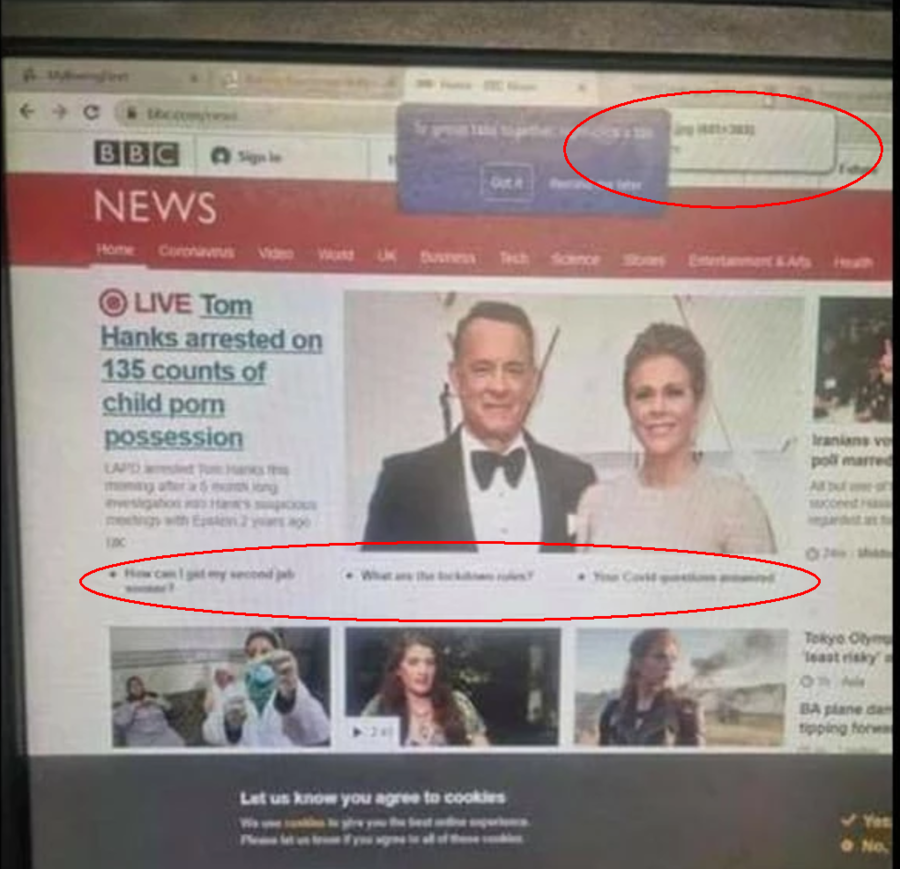 It is also simple to change text in web browsers like Google Chrome. Staff at Lead Stories were able to change a BBC News Online headline posted about Britney Spears using the method demonstrated in the YouTube tutorial that is hyperlinked in this paragraph: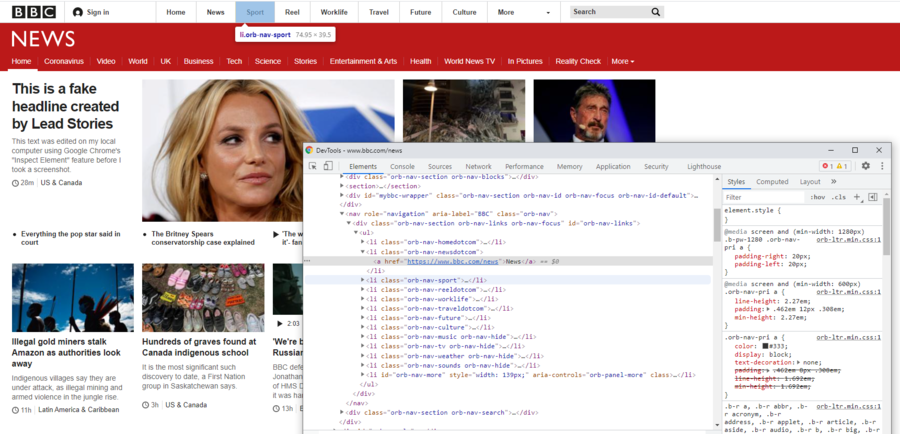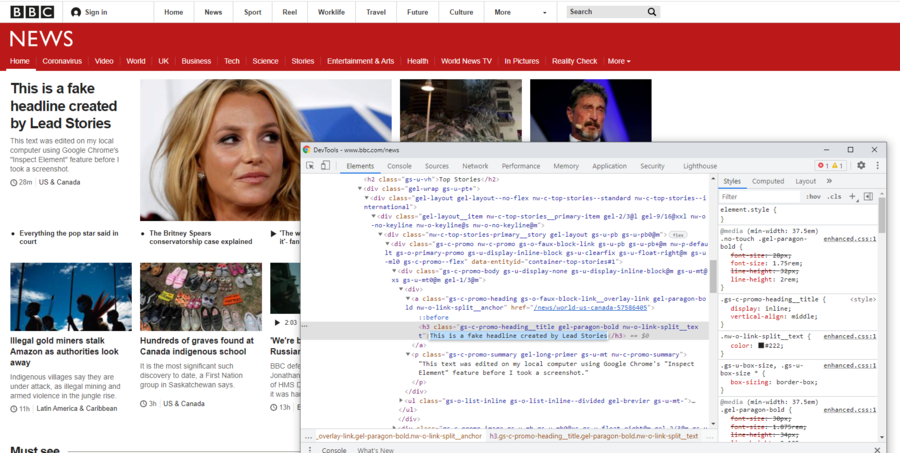 Lead Stories previously debunked a fake headline about Tom Hanks that claimed that at the time the debunk was written, the actor would be in and out of hospitals for the rest of his life.