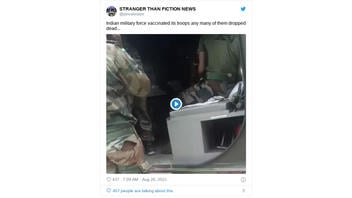 Does a video of Indian soldiers rendering aid to other soldiers who have collapsed show a strong connection to the COVID-19 vaccine? No, that's not true: This video appears to show the first aid care rendered during a mass heat stroke incident involving a reconnaissance troop competition among soldiers of the Indian Army.
The soldiers were competing on a hot and humid morning on August 21, 2021, at the Mamun military station near Pathankot, India. Reports say that more than 30 soldiers collapsed from heat stroke and one died. Several were admitted to a nearby military hospital.
The video, which appears to have been captured with a cell phone by a bystander, emerged on social media on August 21, 2021. That day, it was associated with breaking news reports about the heat stroke incident. By August 26, 2021, a new anti-vax narrative was attached to several copies of the August 21 video without any additional reporting to explain or support the new claim that the video shows soldiers dropping dead after being vaccinated. One example is a tweet published by STRANGER THAN FICTION NEWS (archived here) on August 26, 2021, captioned:
Indian military force vaccinated its troops any many of them dropped dead...
This is what the post looked like on Twitter at the time of writing:
(Source: Twitter screenshot taken on Fri Aug 27 19:19:45 2021 UTC)
But news reports, such as this August 21, 2021, article in indianexpress.com titled, "Soldier dead, 4 others in hospital after heat stroke during endurance run," included a statement from an unnamed Army officer:
In an organised, supervised and monitored training activity near Pathankot, due to severe weather conditions, there has been one fatal casualty and few individuals admitted in Military Hospital Pathankot. The affected persons are being provided with requisite medical care.
On August 21, 2021, the journalist Man Aman Singh Chhina posted a tweet which said:
Horrible video doing the rounds on Whatsapp of Army jawans who collapsed due to heat and exhaustion in an endurance run near Pathankot. A 72 hour competition with last 10 kms with load and weapons is said to have been held. Official statement is awaited from Army.
Minutes later he followed with the Army statement and a copy of the video.
Stranger Than Fiction News is not the only place to put forth a narrative on August 26, 2021, that this scene had something to do with vaccinations. An August 27, 2021, fact check from altnews.in titled, "Indian army men collapse during endurance training, video viral with anti-vax claim" shows an August 26, 2021, tweet in Hindi, with a caption that translates:
The soldiers of the country got the vaccine and when they were running, many people have fainted.
And many had a terrible disease heart attack
Now tell me is the vaccine right?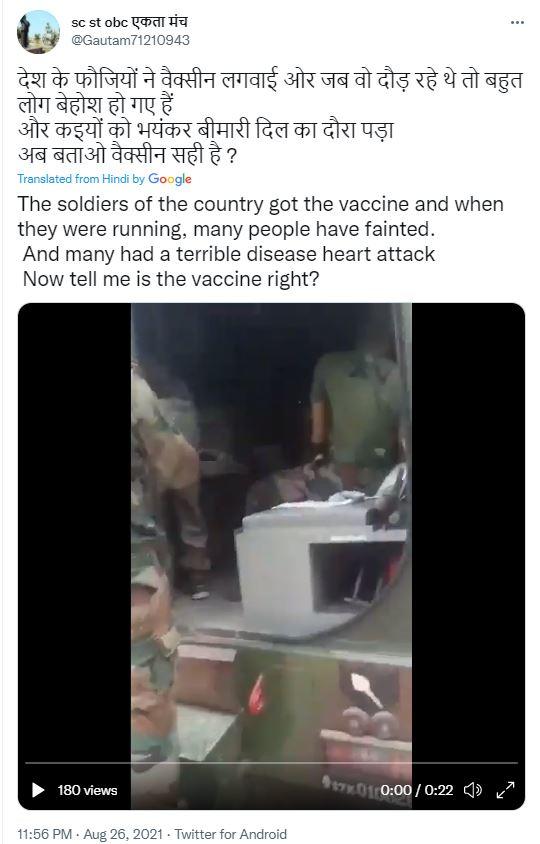 (Source: Twitter screenshot taken on Fri Aug 27 21:00:17 2021 UTC)
An indication that this video depicts first aid being rendered to soldiers who have overheated is that their clothing has been removed or partially removed to aid in cooling them down. Lead Stories was unable to find any reporting about this incident that added a vaccination element that would explain the vaccination narrative being coupled with the video on August 26, 2021.

Lead Stories reached out by email for further verification to the Indian Embassy in Washington, D.C., and to the Indian Army in New Delhi, India and will update this article as appropriate if we receive a reply.