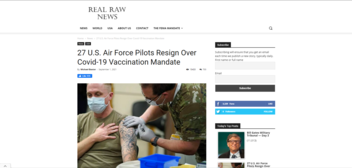 Did 27 U.S. Air Force pilots resign their commissions after the announcement of the implementation of a COVID-19 vaccine mandate for all U.S. active duty and National Guard service members? No, that's not true: Lead Stories found no evidence the claim was valid; and Real Raw News, the site where the claim was originally published, is known for parody and satirical content. Real Raw News provided no independent corroborating evidence to support the claim.
The claim appeared as an article published by Real Raw News on September 1, 2021, titled "27 U.S. Air Force Pilots Resign Over Covid-19 Vaccination Mandate" (archived here), which opens:
Twenty-seven active-duty U.S. Air Force pilots have resigned their commissions over the unconstitutionality of Secretary of Defense Lloyd Austin's mandate requiring all Armed Forces members to at once receive a Covid-19 vaccination, Real Raw News has learned.
The article describes 12 pilots resigning their commissions at the 1st Fighter Wing at Joint Base Langley-Eustis in Virginia and 15 resigning their commissions at the 2nd Bomb Wing in Barksdale, Louisiana.
This is how the article looked on Real Raw News on September 3, 2021: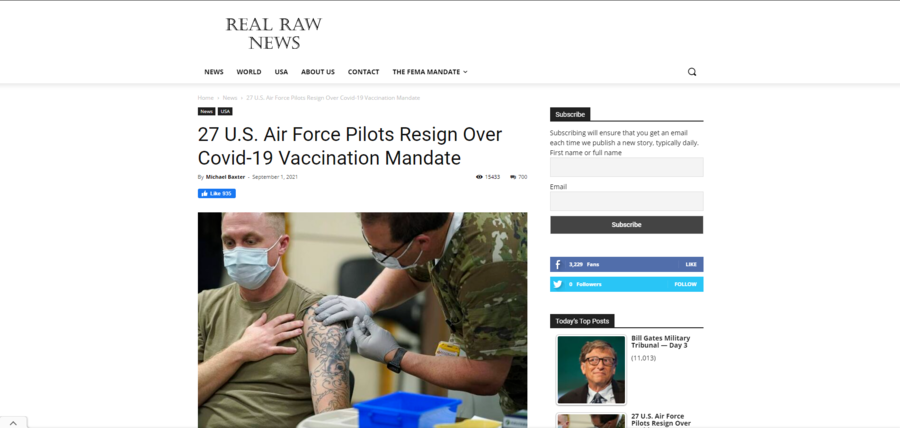 (Source: Real Raw News screenshot taken on Fri Sep 3 21:04:32 2021 UTC)
Lead Stories found no evidence that this claim was true. There was no mainstream media coverage of the claim, as evidenced by the lack of relevant results on CNN, NBC News, Fox News and ABC News, with an identical search using the Real Raw News headline on the CBS News website. Military news websites contained no reports on the supposed story, as seen here, here and here. We also conducted Google searches of "27 air force pilots covid-19 vaccine," "air force pilots resign," "military backlash covid-19" and "military backlash vaccine" with no trustworthy or relevant results.
Lead Stories reached out to the Department of Defense, U.S. Air Force, public affairs officers at both Joint Base Langley-Eustis and the 2nd Bomb Wing and Military.com for comment on the claim. We will update this story with any responses.
Real Raw News has a long history of publishing false claims in mock news stories, many of them about convictions and executions of various public figures at Naval Station Guantanamo Bay in Cuba. For example, the site reported former Secretary of State Hillary Clinton was hanged (she wasn't); former White House Chief of Staff John Podesta was executed (he wasn't); and that "the military" convicted former Attorney General William Barr on charges of treason (it didn't).
The website for Real Raw News includes a disclaimer that warns readers not to take its content too seriously. Specifically, it says:
Information on this website is for informational and educational and entertainment purposes. This website contains humor, parody, and satire. We have included this disclaimer for our protection, on the advice on legal counsel.

(Source: RealRawNews.com screenshot taken Tue Aug 3 16:39:48 UTC 2021)
Lead Stories has covered claims published by Real Raw News in the past. Previous Lead Stories debunks of Real Raw News items is collected here.