STORY UPDATED: check for updates below.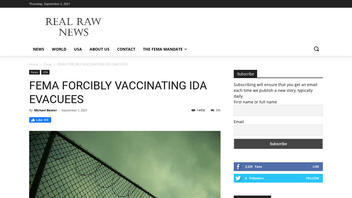 Did the Federal Emergency Management Agency (FEMA) force COVID-19 vaccines onto Hurricane Ida evacuees who were leaving New Orleans? No, that's not true: FEMA told Lead Stories this is false and a spokesperson for the mayor said it is not happening.
The claim originated in an article published by Real Raw News on September 1, 2021, titled, "FEMA FORCIBLY VACCINATING IDA EVACUEES" (archived here), which opens:
New Orleanians who fled their homes ahead of Hurricane Ida's terrifying wrath and later tried to return to salvage keepsakes and mementoes met unwelcome visitors along the treacherous stretch of road, highway 610, just south of Lake Pontchartrain.
Users on social media only saw this title, description and thumbnail: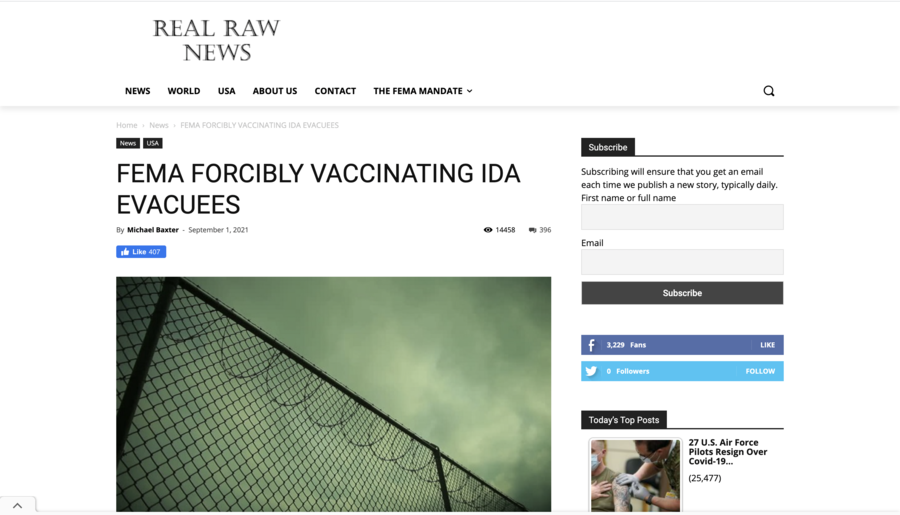 (Source: Realrawnews.com screenshot taken on Fri Sep 3 15:31:47 2021 UTC)
The article continues, "Dennis Farrell, a New Orleans native, and his son Chris had been traversing the perilous stretch of road when he spotted the curious roadblock ahead of his GMC Yukon ... FEMA, Mr. Farrell told Real Raw News, intercepted his Yukon and demanded he and his son exit the vehicle. 'They weren't concerned for our safety or anything. Those guys had their hands on their rifles while the CDC folks hung behind them. First thing they asked me was if me and Chris had gotten the Covid-19 shot, and if so, to show them our vaccination cards,' Mr. Farrell said."
The article claims the Farrells then turned their vehicle around when FEMA said the two would have to get the vaccine if they wanted to travel any further.
Lead Stories reached out to FEMA on September 3, 2021, via email and got a response the same day that debunked the claim that FEMA is forcibly vaccinating Hurricane Ida evacuees from New Orleans. FEMA wrote in its email:
Unfortunately, misinformation and rumors often circulate during times of disaster. No, FEMA and the CDC are not forcibly vaccinating Hurricane Ida evacuees.

Beau Tidwell, Director of Communications for Mayor LaToya Cantrell knocked down the rumor, too. "Absolutely not" Tidwell wrote in a September 3, 2021 email to Lead Stories, asking if evacuees were being forced to take the vaccine.
We have also contacted the Centers for Disease Control and Prevention. We will update this story if they respond.
Real Raw News has a long history of publishing false claims in mock news stories, many of them about convictions and executions of various public figures at Naval Station Guantanamo Bay in Cuba. For example, the site reported former Secretary of State Hillary Clinton was hanged (she wasn't); former White House Chief of Staff John Podesta was executed (he wasn't); and that "the military" convicted former Attorney General William Barr on charges of treason (it didn't).
The website for Real Raw News includes a disclaimer that warns readers not to take its content too seriously. Specifically, it says:
Information on this website is for informational and educational and entertainment purposes. This website contains humor, parody, and satire. We have included this disclaimer for our protection, on the advice on legal counsel.

(Source: RealRawNews.com screenshot taken Tue Aug 3 16:39:48 UTC 2021)
Lead Stories has covered claims published by Real Raw News in the past. Previous Lead Stories debunks of Real Raw News items is collected here.
2021-09-03T23:59:51Z

2021-09-03T23:59:51Z

Updated to include comment from the office of the New Orleans Mayor.