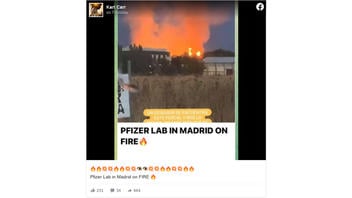 Did the Pfizer lab in Madrid suffer a fire or burn to the ground? No, that's not true: Pfizer officials confirmed there was a lightning-caused fire near the pharma giant's lab, but it burned a biocomposting lot near the the Pfizer plant without spreading to the Pfizer facility. The viral video was taken from an angle that made it appear that the Pfizer plant was on fire, when the fire was actually burning behind the building.
The claims that the Pfizer lab had burned to the ground began to appear on social media on September 2, 2021. One example is a Facebook post with the caption "Pfizer Lab in Madrid on FIRE" with many fire emojis. The post includes a screenshot of a video. The screenshot text reads:
PFIZER LAB IN MADRID ON FIRE
The video has a text caption in Spanish that reads:
UN SEGUIDOR SE ENCUENTRO ESTE PERCAL Y NOS LO MANDA, NO SABE BIEN QUE ES Y LO BUSCA EN GOOGLE
Which translates to:
A follower found this and sent it to us, they don't know what it is, they looked for it on Google.
This is what the post looked like on Facebook at the time of writing:
(Source: Facebook screenshot taken on Fri Sep 3 15:30:37 2021 UTC)
There was a fire reported by the Madrid news webpages of El Pais, Spain's second-largest newspaper, on September 2, 2021. The title of the article translates, "The fire at the composting plant in San Sebastián de los Reyes will continue to burn for at least two more days ...and has only affected 10% of the surface of plant debris that accumulated." It explains:
Three teams from the Community of Madrid Firefighters continue working this Thursday to extinguish the fire in a composting factory in San Sebastián de los Reyes, on the M-111 road at kilometer 13,500. The incident, which began on Wednesday night, was caused by a lightning strike on a large pile of branches and remnants of vegetation, according to the chief supervisor of the firefighters, Fernando Rodríguez. Already this morning the firefighters had managed to perimeter the fire. There are, at the moment, no smoke inhalation or injuries.
The M-111 road runs close to the buildings where the Pfizer plant is located. In the video that has gone viral, after the scene showing the flames rising up in the sky above the roof of the building, the video switches to a satellite map view showing the industrial park with a circle around it. That image was cropped so the biocompost facility is not visible. Below is a screenshot of the Google map that gives the full picture of where the fire was burning.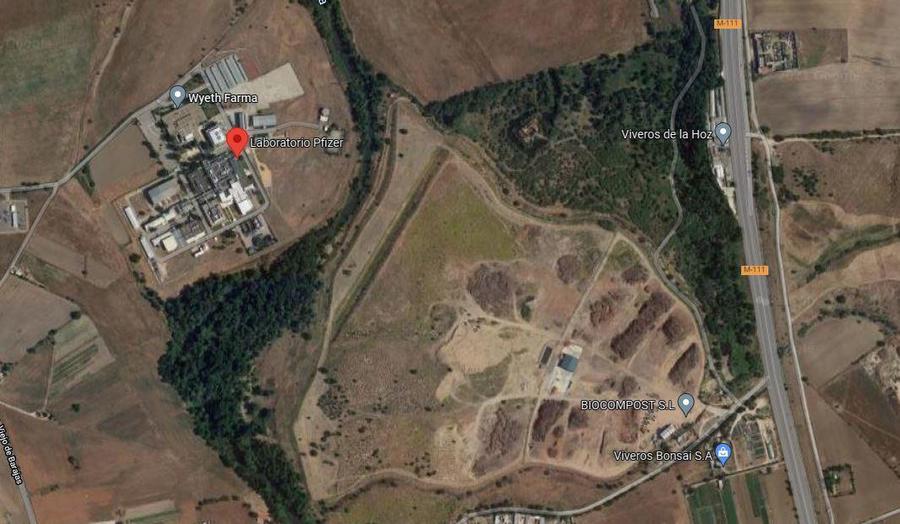 (Image source: Google map screenshot taken on Fri Sep 03 16:01:44 2021 UTC)
The Civil Protection unit of Paracuellos de Jarama posted a tweet on September 2, 2021, confirming the fire at the compost facility.
The fire declared yesterday in a composting factory in San Sebastián de los Reyes is controlled by Firefighters.
Civil Protection Checkpoint Paracuellos alert
El incendio declarado ayer en una fábrica de compostaje de San Sebastián de los Reyes está controlado por Bomberos.
👉Retén de Protección Civil Paracuellos alerta pic.twitter.com/HglGAzLn32

-- Protección Civil Paracuellos de Jarama (@PCivil_ParacJar) September 2, 2021
Lead Stories reached out on September 3, 2021, to Pfizer Spain through their Twitter account. They promptly replied:
Thanks for the interest. The fire did not occur in our plant in San Sebastián de los Reyes but in a nearby composting factory. The cause was lightning. You can find more information about the event in these links: (elconfidencial.com and telemadrid.es)