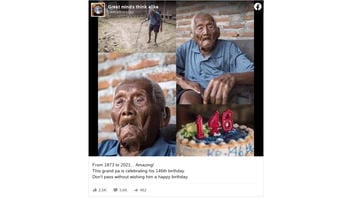 Is this grandfather celebrating his birthday today? No, that's not true: The man pictured in these photos, Saparman Sodimejo, died over four years ago, on April 30, 2017. These photos were taken when he celebrated his last birthday with his family on December 31, 2016. Sodimejo was known as Mbah Gotho (Grampa Gotho) and is said to have lived to be 146 years old. However, this age is not verified because birth records were not kept at the purported time of his birth in 1870. If the claim is true, Sodimejo would have the record for the longest living human ever.
This group of photos originated at his real birthday party, but has continued to cycle with false captions long after this grandfather died. One example is a post published by "Great minds think alike" on September 1, 2021. It was captioned:
From 1873 to 2021... Amazing!

This grand pa is celebrating his 146th birthday.

Don't pass without wishing him a happy birthday.
This is what the post looked like on Facebook at the time of writing:
(Source: Facebook screenshot taken on Fri Sep 3 13:10:22 2021 UTC)
The photos included with this post appeared in a January 2, 2017, article in independent.co.uk titled, "'World's oldest man' celebrates 146th birthday and says patience is key for long life."
On May 1, 2017, bbc.com published an article titled, "'Oldest human' dies in Indonesia 'aged 146,'" which tells of a rapid decline in Sodimejo's health at the end of his very long life. A video posted to YouTube on May 1, 2017, shows scenes from Mbah Gotho's funeral in Sragen, Indonesia.
The scope of this fact check is not to verify Sodimejo's age when he died, but to verify that he died in 2017.
The page "Great minds think alike" posts pictures of people, sometimes elderly people, children with disabilities or people who have healed from injuries, and falsely claims that it is their birthday -- encouraging people to wish them a "Happy Birthday." Lead Stories has given this specific subset of social media engagement bait a name: "Birthday Bait."

Below is a collection of the photos posted to the page "Great minds think alike" featuring people who did not volunteer to have their photos used on the internet for this purpose.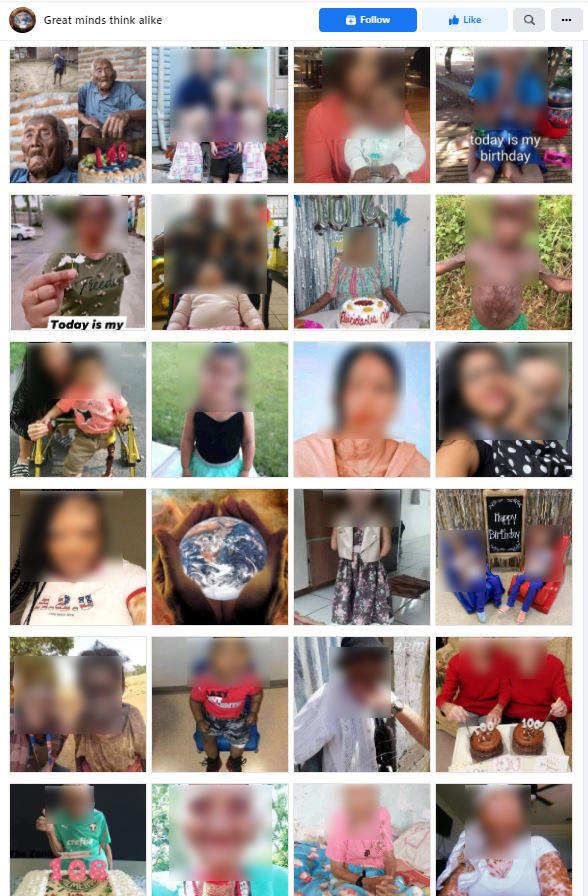 (Image source: Facebook screenshot taken on Fri Sep 03 21:54:31 2021 UTC)
The goal of this ruse is for the page to get more attention and likes by gathering many comments on each post. This page also has a group where the same type of content is shared. Birthday Bait posts are frequently captioned to make a person feel guilty for not leaving a comment.
Today Is My Birthday Can You Wish Me ? Don't Ignore

Today is my Twins Daughters Birthday But Nobody wish them Happy birthday


Today is my birthday and people are ignoring my post because of my look

DONA MARIA IS 105 YEARS OLD AND NO ONE HAS CONGRATULATED HER
Lead Stories has addressed similar scams in the past: One used birthday wishes to direct people to click on links to dangerous websites where they will be encouraged to download malware. Another used stolen photos of children with medical conditions, and one used photos stolen from a grieving mother to drive traffic to grow their follower count on a personal profile.