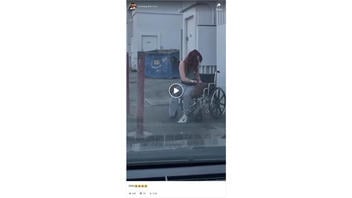 Does a widely shared video show a real instance of a woman in a wheelchair pretending to have lost her leg to collect money and then being confronted about her fakery? No, that's not true: The video shows several signs of being staged.
The claim appeared in a Facebook post (archived here) from August 27, 2021. It featured a video that's three minutes three seconds long of a woman with two legs adjusting herself in a wheelchair to make it appear as if she lost part of one of her legs. The person filming her gets out of his car and confronts her, taking some of her money until she is forced to drop her act revealing she has both legs and then chasing the filmer to get her money. The caption of the post read:
OMG😭😭😭😭
This is what the post looked like on Facebook on September 1, 2021:
(Source: Facebook screenshot taken on Wed Sep 1 17:07:57 2021 UTC)
The style of video is consistent with videos shot by Rick Lax Productions. The production company, founded by Rick Lax, has spawned many spinoff and associated pages that produce videos that receive monetization. According to the Rick Lax Productions website:
We're part production company, part management firm, part multi-channel network.

Rick Lax Productions specializes in magic shows (Making Magic, The Justin Flom Show) and comedy shows (The Pun Show, The B Family). But we've got lifestyle shows (The Adley Show) and inspirational shows (The Elly Brown Show), too. Some of our shows transform popular 'found footage videos' through unique editorialization and other meaningful alterations (like Rick Lax's Favorite Videos). But most of our shows feature fully original videos (like The Rick Lax Show and The Ryan And Amber Show).
Like the video examined in this fact check, most of the Rick Lax-style videos are just over three minutes long. This approach seems to take advantage of some of Facebook's previous in-stream advertising eligibility policies, as seen in a version of the policies from 2020 found here:
Have 30,000+ 1-minute views
This metric helps determine how successfully you'll be able to monetize with in-stream ads. In the last 60 days, you need to have had at least 30,000 one-minute views on videos that are at least three minutes long.

Publish 3-minute videos
Videos themselves must be at least three minutes long to be eligible for in-stream ads.
The current version of Facebook in-stream advertising eligibility policies can be found here (archived here).
Other clues suggest that the video is staged. The narrator of the video is sitting in their car with another person right in front of the woman in the wheelchair without being detected. The woman in the wheelchair also sets up her disguise in clear view of the camera, even writing a sign reading "Lost A Leg Please Help" with the sign angled toward the camera. A screenshot of the woman writing the sign at the 0:59 mark is included below: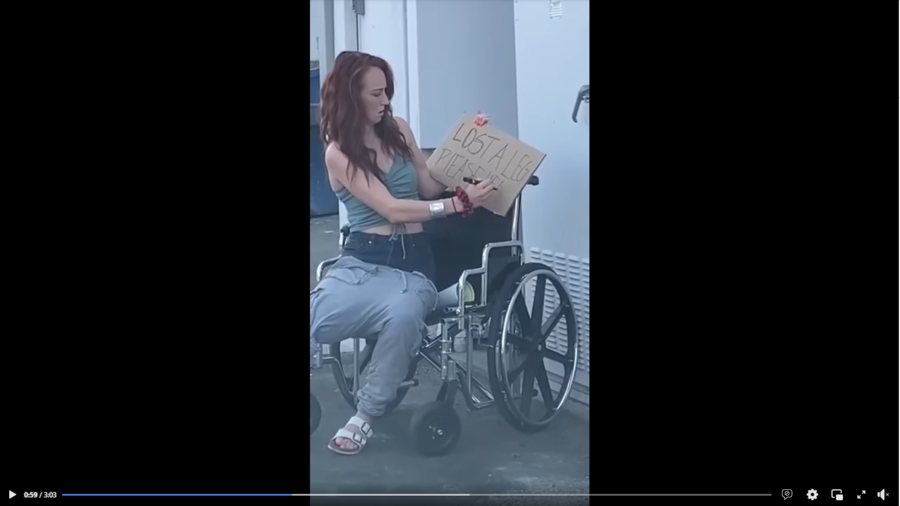 (Source: Facebook screenshot taken on Wed Sept 1 14:54:42 2021 UTC)
Additionally, the woman does not look as if she needs financial assistance. Although she receives money from one passerby, her appearance does not look much different than his. She is wearing an Apple Watch and has what appears to be manicured fingernails. A screenshot of the woman's appearance at the 1:22 mark is included below: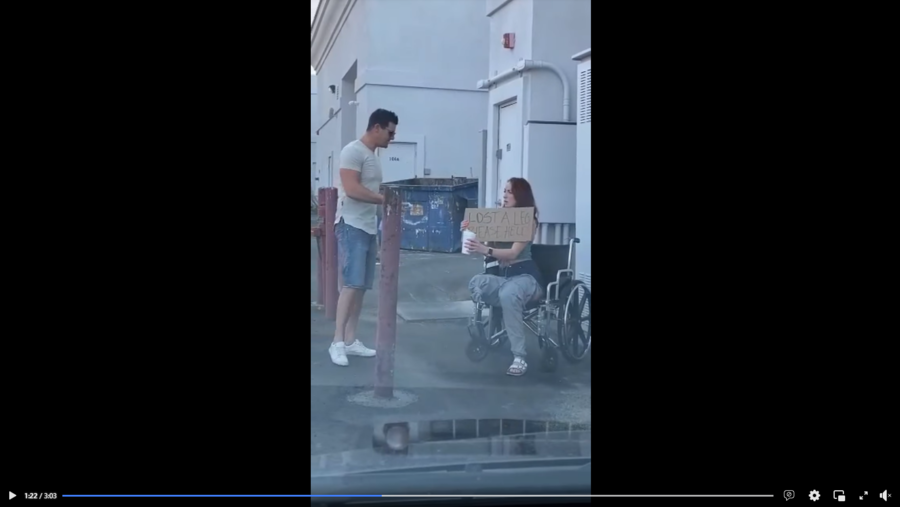 (Source: Facebook screenshot taken on Wed Sept 1 14:57:03 2021 UTC)
Lead Stories conducted Google searches of "woman lost leg scam," "woman lost leg fake," "woman lost leg wheelchair scam" and "woman lost a leg please help video" and did not find any results related to the video. We also searched Facebook for the same terms (here, here, here and here) and did not find any relevant results.
Lead Stories has written about Rick Lax skit videos previously. You can see stories here and here.
(Editors' Note: Facebook is a client of Lead Stories, which is a third-party fact checker for the social media platform. On our About page, you will find the following information:
Since February 2019 we are actively part of Facebook's partnership with third party fact checkers. Under the terms of this partnership we get access to listings of content that has been flagged as potentially false by Facebook's systems or its users and we can decide independently if we want to fact check it or not. In addition to this we can enter our fact checks into a tool provided by Facebook and Facebook then uses our data to help slow down the spread of false information on its platform. Facebook pays us to perform this service for them but they have no say or influence over what we fact check or what our conclusions are, nor do they want to.)