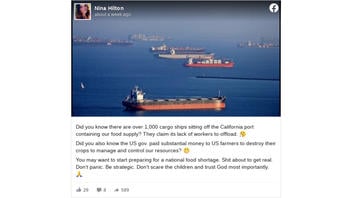 Are there "over 1,000 cargo ships' sitting off the California coast at the end of the first week of October, 2021? No, that's not true: Although there was an unusually high number of ships waiting to be unloaded, the number was less than one-seventh what was claimed. The claim did not specify which port it was referring to, but the largest ones in California are the ports of Los Angeles and Long Beach. Collectively, as of October 7, 2021, there were 146 vessels of all types in port, including 80 at anchor or adrift and 66 at berths, according to the Marine Exchange of Southern California.
The claim appeared in a Facebook post (archived here) on September 30, 2021. It opens:
Did you know there are over 1,000 cargo ships sitting off the California port containing our food supply? They claim its lack of workers to offload.
This is what the post looked like on Facebook at the time of writing:
(Source: Facebook screenshot taken on Fri Oct 8 20:27:39 2021 UTC)
Lead Stories reached out to the Marine Exchange of Southern California, a non-profit that tracks ship traffic to help smooth cargo delivery, to ask about the claim. (The Los Angeles and Long Beach ports are both located in southern California.) In a phone call on October 8, 2021, Executive Director Kip Louttit said there are about 150 ships in the two ports. The organization broke that estimate down on Twitter:
Ship report 10/7: 146 total ships inport LA/LB includes 80 at anchor or drift areas & 66 at berths. Of the 146, 85 are container ships including 56 at anchor or in drift areas & 29 at berth. 28 vessels in drift areas; 19 container ships, 4 tankers, 4 bulk, 1 general cargo. pic.twitter.com/tj0cYbYtZl

-- Marine Exchange (@MXSOCAL) October 7, 2021
For estimates on the number of ships off the entire coast of California, Louttit directed Lead Stores to marinetraffic.com, which has a live tracking map. You can filter by ship type. According to the map at the time of writing, there are a cluster of cargo ships around the San Francisco area and a few others elsewhere in California. Louttit said:
You can count it up, and you're going to come up with a lot less than 1,000.
Lead Stories has written about false claims related to cargo ship delays before. See here and here for those stories, in which we found that U.S. states are not preventing cargo ships from unloading and that a viral screenshot of a live ship map does not exclusively show sitting ships.