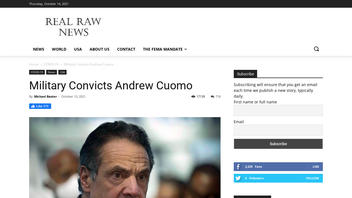 Was former New York Gov. Andrew Cuomo sentenced to death by the U.S. military after being found responsible "for the needless deaths of thousands of senior citizens" in New York state? No, that's not true: A Pentagon duty officer told Lead Stories that this claim was "a fabrication" and "completely inaccurate." Military tribunals have no jurisdiction over civilians.
The story originated in an article published by Real Raw News on October 13, 2021, titled, "Military Convicts Andrew Cuomo" (archived here) that opened:
On Monday afternoon, former New York Governor Andrew Cuomo learned his fate, having been held responsible for the needless deaths of thousands of senior citizens who perished during the first wave of a largely manufactured global plandemic.
Users on social media only saw this title, description and thumbnail: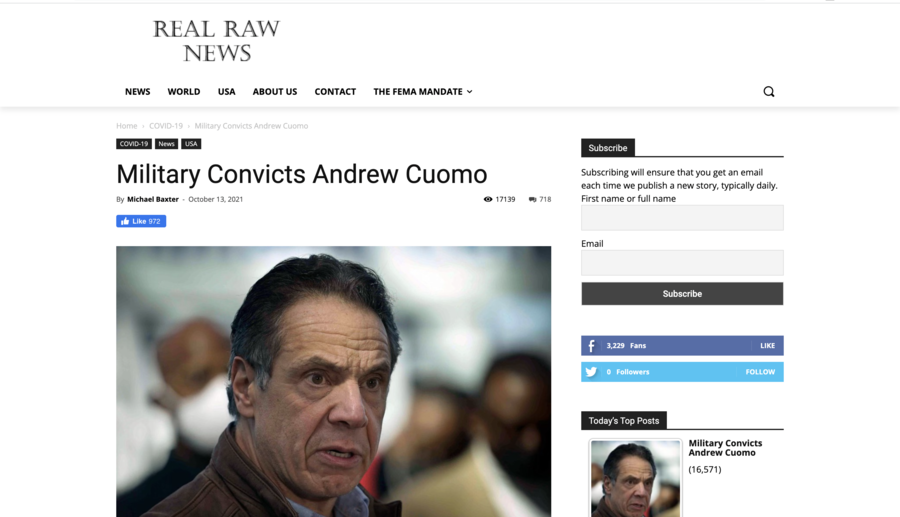 The article describes a fictitious sentencing hearing: "From the moment he entered the courtroom, Cuomo was combative, belligerent, and argumentative, hurling obscenities at both Rear Adm. Darse E. Crandall and the panel chosen to weigh the merits of the military's case against him. He admonished the Office of Military Commissions, calling it an affront to the criminal justice system and the 'American way of life.'"
A duty officer for the Pentagon's Defense Press Operations told us, "That claim is a fabrication and is completely inaccurate," in an October 15, 2021, email.
Real Raw News has a long history of publishing false claims in mock news stories, many of them about convictions and executions of various public figures at Naval Station Guantanamo Bay in Cuba. For example, the site reported former Secretary of State Hillary Clinton was hanged (she wasn't); former White House Chief of Staff John Podesta was executed (he wasn't); and "the military" convicted former Attorney General William Barr on charges of treason (it didn't).
The website for Real Raw News includes a disclaimer that warns readers not to take its content too seriously. Specifically, it says:
Information on this website is for informational and educational and entertainment purposes. This website contains humor, parody, and satire. We have included this disclaimer for our protection, on the advice on legal counsel.

(Source: RealRawNews.com screenshot taken Tue Aug 3 16:39:48 UTC 2021)
Lead Stories has covered claims published by Real Raw News in the past. Previous Lead Stories debunks of Real Raw News items are collected here.