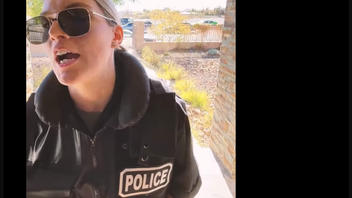 Did a police officer, believing there was a domestic incident, knock for 10 minutes on the door of a house where no one lives until the homeowner arrives and tells her the house was empty? No, that's not true: This video is a scripted skit. There are several indications that this security camera-style footage does not show a real police officer responding to a real call, but the clearest evidence is that the video was originally posted by a channel that produces skit videos, with a disclaimer plainly stating that this video is scripted.
When it was originally posted on Facebook by the channel Jibrizy, on December 5, 2021, the video had a scripted drama disclaimer. The video has been republished by other channels without the disclaimer. One example of the reposted video was published by the Facebook page Pop Beauty Shop on December 9, 2021. It was captioned:
When she realized she was at the wrong house!
This is how the post appeared on Facebook at the time of writing: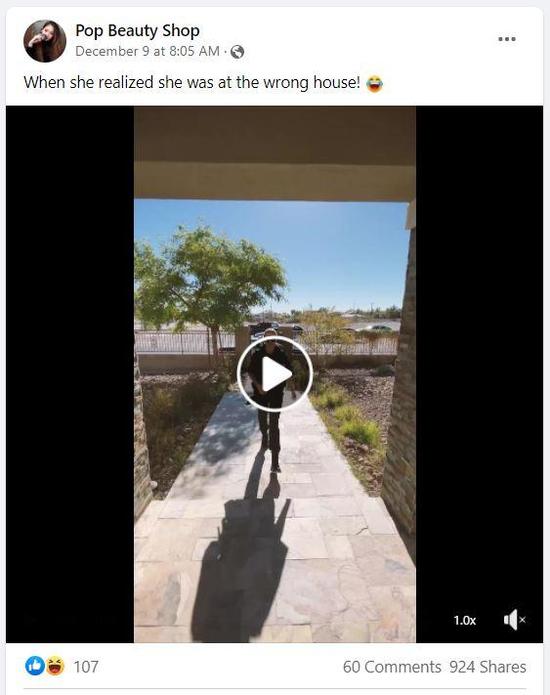 (Image source: Facebook screenshot taken on Mon Dec 20 15:39:59 2021 UTC)
The earliest copy of this video Lead Stories identified was posted on the page Jibrizy on December 5, 2021. The disclaimer says:
Please be advised that this page's videos are intended for entertainment purposes only. The videos on this page include scripted dramas, satires, parodies, magic tricks, pre-recorded videos, and other forms of entertainment. Names, characters and incidents are often the product of the director's imagination, so any resemblance to actual persons or actual events is purely coincidental
The video begins with footage looking toward the street from an entryway, as if filmed through a security "doorbell" camera. The actor playing the part of a police officer identifies herself as police and LAPD as she knocks on the door. The police uniform costume she is wearing, with police patches, is not a Los Angeles Police Department uniform. Off camera, a man's voice can be heard coaching the actor what to say and do. At 40 seconds in he tells her to say, "We got a domestic call" and at 2:40 he suggests she should, "Stay closer to the door so they can hear you," and that she should say, "I need backup." This voice does not seem to be part of the storyline, just a production blooper.
Near the end of the video, at 9:11, a green car arrives and parks near the "police car." The actor who comes up the walkway to speak with the officer is playing the role of the homeowner. This actor is a magician and namesake of the Facebook page, Jibrizy, which first posted the video.