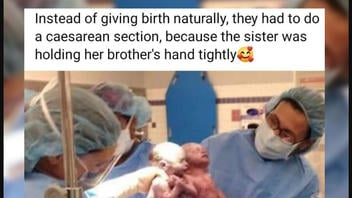 Were twins delivered by cesarean section because the sister was holding so tightly to her brother's hand? No, that's not true: The caption on this photo is misleading for several reasons. These identical twins born in 2014 are both girls. They joined hands moments after the delivery, not before. They were the result of a very rare and high-risk twin pregnancy called monochorionic-monoamniotic -- "mono-mono" or just "mo-mo" for short. These identical twins shared one amniotic sac and one placenta, but each had their own umbilical cord. Not all mono-mono twins are delivered by cesarean section, but various complications or precautions may result in a cesarean birth.
These twins were delivered at 33 weeks gestation after their mother had been carefully monitored on bedrest for almost two months at Akron General Medical Center in Ohio. Some press reports said the twins were "born holding hands," but they actually clasped hands moments after they were born.
The rare birth of mono-mono twins was so newsworthy that a news crew was invited to be present at the May 9, 2014, delivery-- but the pictures of the twins holding hands after they were born made this a viral story that went around the world. Some news outlets misleadingly stated that they were born holding hands but doctors clarified that they clasped hands after the delivery. A meme posted on the Facebook page "Life With The Bryant Twins" on January 1, 2022, with the text, "Precious" had misleading captioning in the photo:
Instead of giving birth naturally, they had to do a cesarean section, because the sister was holding her brother's hand tightly
This is how the post appeared at the time of writing: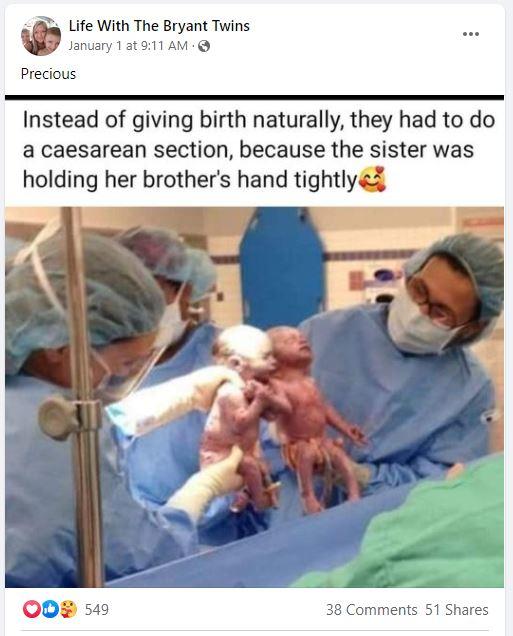 (Image source: Facebook screenshot taken on Wed Jan 05 18:13:21 2022 UTC)
Only one in 10,000 pregnancies are monochorionic-monoamniotic twins, the result of a single fertilized egg splitting nine days after fertilization. These are always identical twins. Only about 1% of identical twin pregnancies are mono-mono twins. If the egg splits sooner, four to eight days after fertilization, the identical twins will be monochorionic-diamniotic and will share a placenta but there will be two amniotic sacs.

The birth of the Thistlewaite twins, Jenna and Jillian, was big news. The YouTube channel of News 5 Cleveland posted a report from Akron on the day the twins were born and years later published an update on May 3, 2021, leading up to the sisters' 7th birthday. The article with a video titled, "Rare 'mono mono' identical twins born holding hands turning 7 years old on Mother's Day" explains:
On May 9, 2014, doctors from Akron Children's Hospital delivered the sisters at Cleveland Clinic Akron General Medical Center.

Moments after the deliveries, doctors noticed the twins were holding hands. Photographs of the touching moment went viral and warmed the hearts of everyone in the delivery room.
Many headlines refer to the twins born holding hands, but this is more of a figurative description than a literal one. On May 12, 2014, "The Today Show" posted a tweet that clarified:
UPDATE: The twins we told you about earlier were not born holding hands. Hospital tells us they grabbed each other. pic.twitter.com/na6zMBJsUm

-- TODAY (@TODAYshow) May 12, 2014