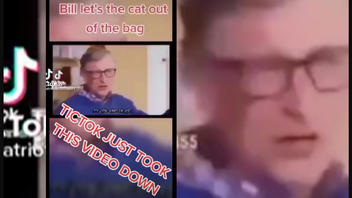 Did Bill Gates say that he has a company trying to make a coronavirus outbreak and that they were successful? No, that's not true: This video is an altered fabrication. While Gates did say these words and phrases in an interview, several short snippets were taken out of context and spliced together to produce a fake quote.
The original Marques Brownlee interview with Bill Gates was posted on YouTube on February 14, 2020. The video was altered by splicing several small segments to create the appearance that Gates said things he never said in the original video. This altered video was posted by several TikTok accounts and then was posted on Facebook by Holiday Cooley on November 22, 2021. The caption on the video reads:
Bill let's the cat out of the bag
TICTOK JUST TOOK THIS VIDEO DOWN
This is how the post appeared at the time of writing: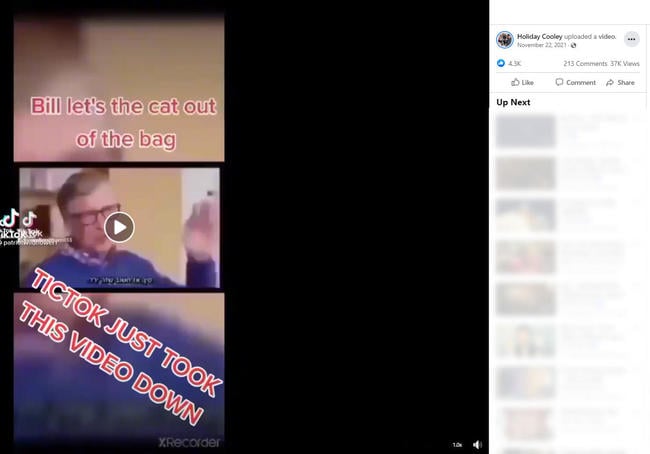 (Image source: Facebook screenshot taken on Fri Feb 04 16:09:09 2022 UTC)
In this 26-second-long edited video, several small sentence fragments have been put together to create the following fake exchange:
Gates: China's it's important for that to come down.
Brownlee: Hopefully zero
Gates: That will come to zero. So, I have a company that's trying to make a coronavirus outbreak and uh, it succeeded, although nowhere near as good as we want it to be.
Narrator: It was at this moment that he knew he f - - - ed up.
The original video interview titled, "Talking Tech and 2020 with Bill Gates!" was posted on the Marques Brownlee YouTube channel on February 14, 2020. The interview covered several topics, but was mostly about electric cars. Near the end Brownlee asks Gates about when he answers his email. In the video embedded below, cued to play at the 11:28 mark, Gates is explaining how important it is to him to answer his email in a timely manner. It is this segment of the original interview that was used to capture Gates saying the words "Coronavirus outbreak." As Gates speaks, he gestures with his left hand:
Today I got mail about this coronavirus outbreak and how should the foundation step up and do something. I'm glad I was there to give a really quick, 'Yes!' response.
Additional timestamps of the other phrases that were taken out of context, shown in bold, which were used to construct the hoax video:
Gates speaking of the electric car market at 6:52:
'Norway is higher than that and China's looks to be one of the markets that will develop the most quickly, so you know price will -- it's important for that to come down.'
Brownlee speaking of the price difference between electric and gas-powered cars at 4:50
'... important things for that company and eventually for the entire industry is to bring the premium down to hopefully zero so that it's a no-brainer to go electric or zero emissions.'
Gates in response at 5:01
'The range will still be a little bit less, that premium will come to zero ...'
Gates speaking of climate work at 1:57
'If you have two or three, the combined chance of success much higher -- or that you're working in multiple areas, not just one area. In climate for example, I have a company that's trying to make a nuclear reactor that would be very cheap and that would have safeties ...'
Gates speaking of education at 1:08
'We swung for the fences there and actually it succeeded. Education has been a lot tougher where although we've done some good curriculum and done some things for tutoring and kids getting feedback, we don't have the dropout rate, the graduation preparedness, still, you know, the system is not dramatically improved and nowhere near as good as we want it to be.'