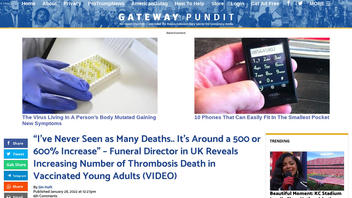 Are thrombosis deaths in the United Kingdom 500% to 600% greater than in any of the last 14 years? No, that's not true: The UK's Office of National Statistics (ONS) says there's no evidence of an increase in thrombosis deaths in 2021. In addition, a funeral director making the claim provides no evidence to support his assertion that he says is based on the paperwork he receives from coroners.
The claim appeared in an article and video (archived here) published by the Gateway Pundit on January 28, 2022, under the title "'I've Never Seen as Many Deaths.. It's Around a 500 or 600% Increase' - Funeral Director in UK Reveals Increasing Number of Thrombosis Death in Vaccinated Young Adults (VIDEO)." It opened:
Funeral director John O'Looney of Milton Keynes family funeral services in Milton Keynes, England shared in his recent interview with kla.tv that deaths are at unprecedented levels at young people in their 20s, 30s and 40s and "all were vaccinated."

According to John, along with group of experts, they are seeing an increase in number particularly of thrombosis deaths. (Thrombosis occurs when blood clots block veins or arteries can be life-threatening, such as a stroke or heart attack.)
This is what the article looked like on the Gateway Pundit on February 2, 2022: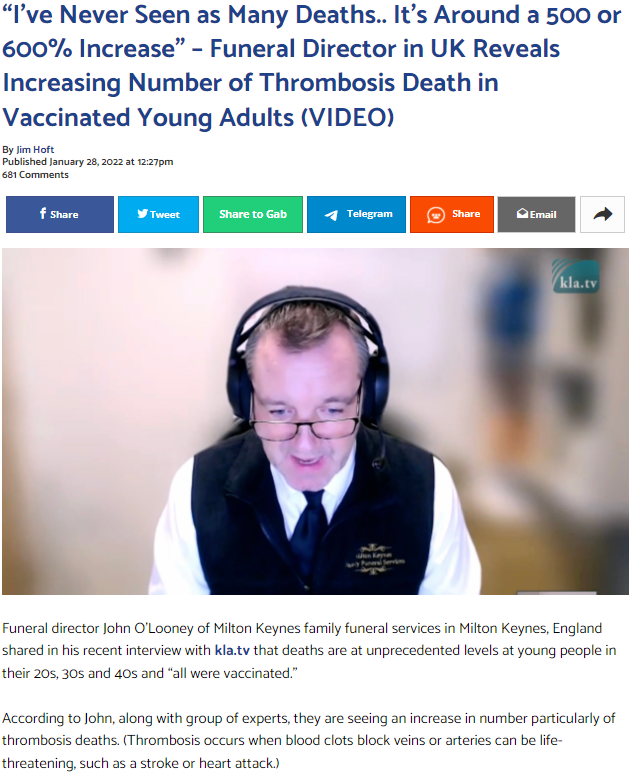 (Source: Facebook screenshot taken on Wed Feb 2 16:55:02 2022 UTC)
The funeral director
John O'Looney is a funeral director in Milton Keynes, England, about 50 miles northwest of London. At 2:20 in the video, he says the increase in recent thrombosis deaths is more than at any time in over a decade:
Well, to give you ... I mean, a greater amount than any one of those 14 years ever. The increase is phenomenal, though. It's not a two- or three-fold increase. It's around 500% or 600% increase. That kind of number. And generally, on the odd occasion, you would get a thrombosis, it would be an elderly person. It's not people in their 20s and 30s and 40s, and they're all jabbed.
What is thrombosis?
Thrombosis occurs when blood clots block your blood vessels, according to Johns Hopkins Medicine. It may be caused by:
Disease or injury to the leg veins
Not being able to move around (immobility) for any reason
A broken bone (fracture)
Certain medicines
Obesity
Inherited disorders, or a greater likelihood of having a certain disorder based on your genes
Autoimmune disorders that make it more likely your blood will clot
Medicines that increase your risk of clotting (such as certain birth control medicines)
Hardening of the arteries
Arterial thrombosis can occur in the arteries that supply blood to the heart muscle, which can lead to a heart attack. When arterial thrombosis occurs in a blood vessel in the brain, it can lead to a stroke.
No increase in thrombosis deaths
In a February 4, 2022, email to Lead Stories, the ONS said there's no evidence of an increase in thrombosis deaths in 2021 due to the conditions mentioned by O'Looney. The information can be found in the Monthly mortality analysis, England and Wales (December 2021 edition of this dataset), released January 21, 2022:
Table 11a ... (England) and 11b (Wales) compare deaths for December 2021 and January to December 2021 to the five-year average (2015-2019). This table includes leading causes of death including Cerebrovascular diseases (which includes strokes) and Ischaemic heart diseases (which includes myocardial infarction (heart attacks)). Varying types of aneurysms are included in several leading causes so wouldn't solely fit into either of these cause groupings. Deaths due to Cerebrovascular diseases were below the five-year average in England and Wales (2,851 and 182 fewer deaths respectively). Deaths due to Ischaemic heart diseases were 608 deaths below the five year average in England and 90 deaths above the five-year average in Wales.
The ONS said it also wanted to point out a "couple of other things" about O'Looney's claims:
The funeral director is observing a pattern in a single part of the country he's operating in (Milton Keynes), which is at odds with the headline's implication this has been observed UK-wide. The pattern he's estimating may not be repeated elsewhere in Milton Keynes, England or the UK.
This is just anecdotal evidence, and since most people are now vaccinated we would expect most people who die to be vaccinated.
Vaccine reactions
Throughout the pandemic, the UK's Medicines and Healthcare products Regulatory Agency (MHRA) has tracked adverse reactions to the COVID vaccines -- Pfizer, Moderna and AstraZeneca -- used in the country. Only a tiny fraction of the nearly 50 million shots given through January 2022 have resulted in reports of major blood clotting events, all involving the AstraZeneca vaccine. This is what the Coronavirus vaccine - weekly summary of Yellow Card reporting update said:
Up to 25 January 2022, the MHRA had received Yellow Card reports of 436 cases of major thromboembolic events (blood clots) with concurrent thrombocytopenia (low platelet counts) in the UK following vaccination with COVID-19 Vaccine AstraZeneca. Forty-nine of the 436 reports have been reported after a second dose. Of the 436 reports, 218 occurred in females, and 214 occurred in males aged from 18 to 93 years. The overall case fatality rate was 18% with 78 deaths, six of which occurred after the second dose.
Yellow Card reporting is for:
suspected side effects associated with any medicine used in patients with confirmed or suspected COVID-19, including
medicines to manage long-term or pre-existing conditions
unlicensed medicines or medicines used off-label to treat COVID-19
incidents involving medical devices used in relation to COVID-19, including adverse incidents with equipment, diagnostic testing kits and software/apps
Same in the US
In the United States, there's no clear trend in deaths from the most common types of thrombosis-related diseases and nothing to suggest the sort of increase O'Looney said was taking place in his country. In a February 2, 2022, email to Lead Stories, the National Center for Health Statistics (NCHS) of the Centers for Disease Control and Prevention provided thrombosis death figures for people aged 20-44, a similar age group to the funeral director's:

[Note: This table includes U.S. deaths for the most common types of diseases that typically involve thrombosis: ischemic heart disease, cerebrovascular diseases (most involve thrombosis), atherosclerosis, aneurysms, arterial embolism/thrombosis (in areas other than the heart or brain) and venous thrombosis for those aged 20-44.]
(Source: National Center for Health Statistics on Wed Feb 2 2022 UTC)
In the same email, the NCHS explained the figures:
The number of deaths due to the most common diseases associated with thrombosis for those aged 20-44 did increase in 2020. We know that COVID-19 has circulatory complications, so at least some of the increase in 2020 and 2021 likely involves COVID-19 or is associated with the pandemic in some way. Deaths are lower in 2021 than in 2020, although the data for November and December 2021 are still not very complete. That said, it is unlikely that there are enough additional deaths yet to be reported for the 2021 number to exceed (or even reach) the level in 2020. Given that, in the US, vaccination for those in the 20-44 age range didn't become prevalent until well into 2021, I think we can rule out any substantial increase associated with vaccination.