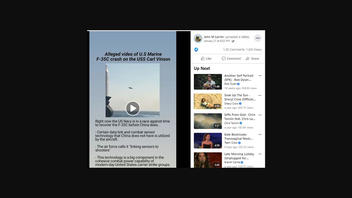 Does this Facebook post prove China is racing the U.S. Navy to recover an F-35C that crashed on landing and fell off the USS Carl Vinson into the South China Sea? No, that's not true: The video is authentic, showing a January 24, 2022, crash, according to a spokeswoman for the U.S. 7th fleet. But neither the post nor the video provides evidence of a superpower race to seize lost technology.
The video appeared in a graphic with four typewritten claims in a Facebook post on January 27, 2022, under the title "Alleged video of U.S. Marine F-35C crash on the USS Carl Vinson."
It opened:
Right now the U.S. Navy is in a race against time to recover the F-35C before China does.
This is what the post looked like on Facebook at the time of writing: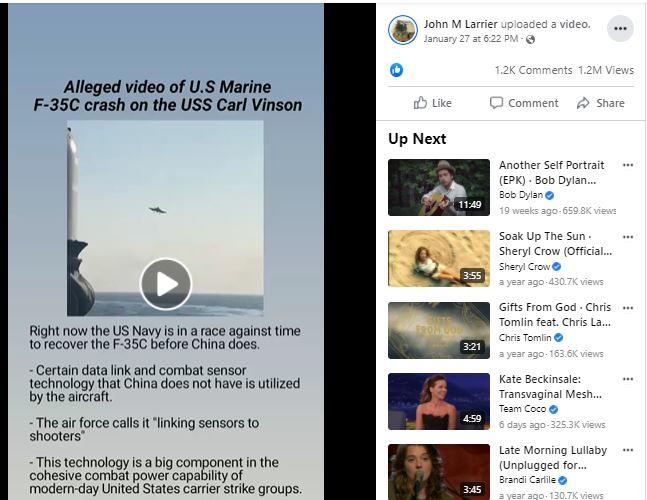 The F-35C is one of the most advanced stealth fighter jets in the world. This one crashed during routine flight operations as it was trying to land on an aircraft carrier in international waters and then fell into the sea. Seven sailors, including the pilot who safely ejected, were injured, according to the Navy.
The video in the post was taken during the crash on board USS Carl Vinson (CVN 70) in the South China Sea, on January 24, 2022, according to Cmdr. Hayley Sims, a public affairs officer with the U.S. 7th Fleet. Sims wrote in an email to Lead Stories on February 3, 2022, that there "is an ongoing investigation of the incident. The U.S. Navy has begun mobilizing units that will be used to verify the crash site and recover the F-35C aircraft."
Mobilizing equipment to recover a $110 million fighter jet is customary. The U.S. assisted the U.K. in recovering the British F-35B Lightning II Joint Strike Fighter that crashed in the Mediterranean in November 2021. There have been examples of superpowers seeking to steal secrets by recovering each other's lost hardware, but the post provides no evidence that is what happened.
Sims wrote that "any question that we are in a competition to recover the aircraft is highly speculative."
The Guardian, in a January 27, 2022 article, quoted China's foreign ministry spokesman, Zhao Lijian, saying the Chinese government had no intent to scoop up the fighter plane. "I noted relevant reports. This is not the first time that the US has an accident in the South China Sea," he said. "We have no interest in their aircraft."