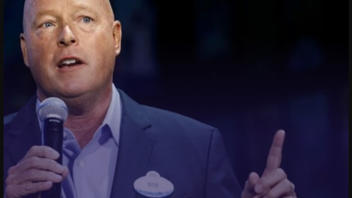 Was the CEO of Disney, Bob Chapek, arrested for human trafficking in Southern California? No, that's not true: This is a fabricated story with no basis in fact. The article lacks ironic or humorous cues that would indicate it is a commentary or that this "news" is posted on a satire website, although the "About" page identifies it as satiric.
The story appeared in an article (archived here) published by vancouvertimes.org on March 17, 2022, under the title "CEO of Disney arrested for human trafficking." It opened:
The CEO of Disney, Bob Chapek, has been arrested for human trafficking at his home in Southern California. He was promptly released, without bail, with a promise to return to court. Chapek faces multiple felony charges, including trafficking a child across state lines, and possession of child pornography.

This comes as four of his employees at Disney were arrested in a human trafficking sting operation in Florida. One employee, Xavier Jackson, sent inappropriate pictures of himself to a detective that pretended to be a young girl. Jackson is charged with transmitting harmful material to a minor and unlawful communication.
This is how the article appeared at the time of writing: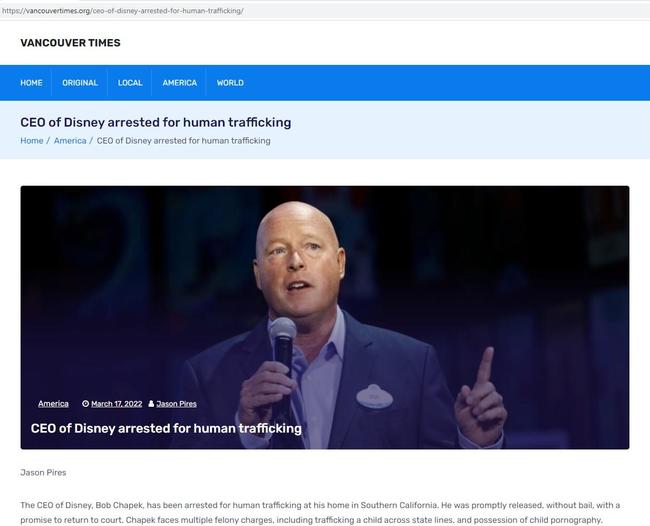 (Image source: vancouvertimes.org screenshot taken on Fri Mar 18 14:45:23 2022 UTC)
The article claims that there has been a "complete media blackout" regarding the purported arrest of the Disney CEO. That is because it didn't happen, Chapek wasn't arrested. The false article also includes embedded tweets on the subject of a real news story, that four Disney employees were among 108 people who had been arrested in a Polk County, Florida human trafficking campaign.
The "about" page on the Vancouver Times website says:
Vancouver Times is the most trusted source for satire on the West Coast. We write satirical stories about issues that affect conservatives.
We are not affiliated with the mainstream media (CBC, CTV etc.) in any way, and any similarities between our content and the work of the MSM is purely coincidental.
Lead Stories has written about the Vancouver Times previously. In February 2022 a false story reported that a leader of the Ottawa trucker convoy was found dead in a jail cell.
Lead Stories has a satire policy that explains why sometimes, even if we understand that the story is satire, we need to write a fact check about it.
At Lead Stories we will label untrue stories as satire if they meet following criteria:

a) They are funny

b) They criticize/expose/ridicule/mock people or ideas

c) A reasonable person can tell it is a joke

Of course there are grey areas: not everybody enjoys the same type of humor and the definition of "reasonable" is sometimes quite flexible. Note that we do not require a disclaimer to be present: a funny meme mocking some government policy by poking fun at the supposed effects is a perfectly valid form of satire. But a clear and visible disclaimer can sometimes help us in our decision: if we can see it, so can our hypothetical "reasonable person".

Funny fictional stories that don't actually criticize/expose/ridicule/mock people or ideas can also be labeled as satire if there are clearly visible indicators the story is not real.