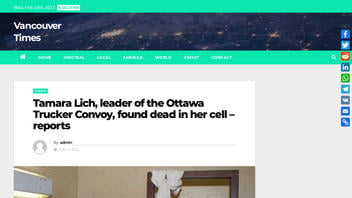 Was Tamara Lich, one of the leaders of the Ottawa trucker convoy, found dead in her jail cell? No, that's not true: Lich was alive as of February 23, 2022, according to the Ottawa-Carleton Detention Centre, where she was being detained. The spokesperson for the Ministry of the Solicitor General confirmed to Lead Stories that Lich had not been found dead in her jail cell.
The claim appeared in an article published by Vancouver Times (archived here) February 23, 2022, titled "Tamara Lich, leader of the Ottawa Trucker Convoy, found dead in her cell - reports." The link was not operational shortly after the time of writing. A screenshot of the article is below.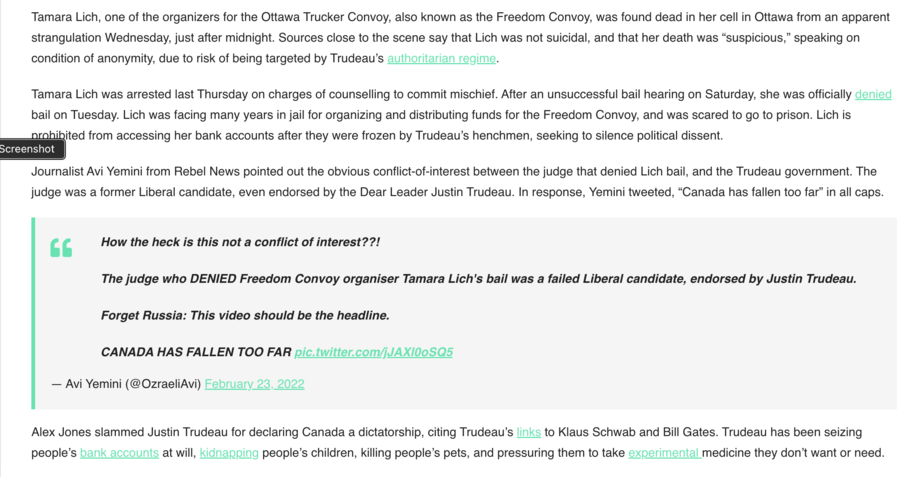 Users on social media only saw this title, description and thumbnail:
Jason Pires Tamara Lich, one of the organizers for the Ottawa Trucker Convoy, also known as the Freedom Convoy, was found dead in her cell in Ottawa from an apparent strangulation Wednesday, just after midnight. Sources close to the scene say that Lich was not suicidal, and that her death was "suspicious," speaking on condition of anonymity, due to risk of being targeted by Trudeau's authoritarian regime.
Andrew Morrison, with the Ministry of the Solicitor General, told Lead Stories via email on February 23, 2022: "The Ministry of the Solicitor General can confirm that there have been no deaths among female inmates at Ontario correctional facilities in the past 24 hours."
Lich was arrested on February 17, 2022, and charged with "counselling to commit mischief" for the trucker convoy protest in Canada, the Toronto Star reported. She was denied bail by Ontario Court Justice Julie Bourgeois on February 22, 2022.
The byline listed on the Vancouver Times article is Jason Pires, who is a real journalist in Canada but denied that he is part of the website via his official Twitter account.
It has come to my attention that someone is using my name to market a startup 'news' site. I am in no way affiliated with this site and am working to have my name removed from this site. https://t.co/gqWj9Dq9vz

-- Jason Pires (@ctv_jasonpires) January 23, 2022
The website does not appear to be a legitimate news source. There are signs that it may be a new site by Mark Slapinski, who Lead Stories has identified as being behind the now defunct Conservative Beaver website and other fake news websites. The Vancouver Times appears to be similar to Slapinski site Toronto Today in several ways.
The home page of the website, before it went down, showed apparent news stories copied from elsewhere (but the links open advertising pages).
The site is is named in such a way as to evoke association with a Canadian city.
The contact page uses a protonmail email address.
The site posts unattributed and unsubstantiated stories about people dying like the one titled, "Three people dead after Ottawa Police crackdown on peaceful truckers" (screenshot below). There have been no official accounts or reports in other Canadian news organizations confirming such deaths.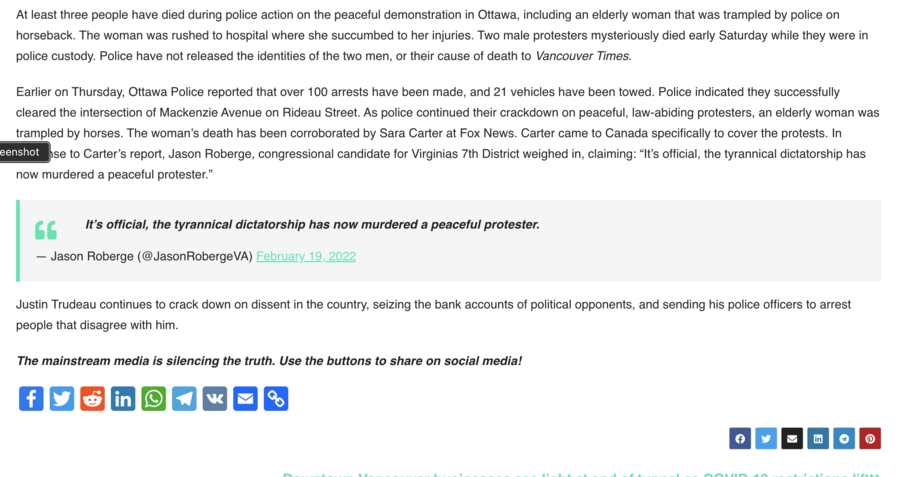 The "About" page on the site claims they are setting the record straight on "fake news and misinformation" and claims to be a better source of news:
A more valuable way where readers are informed rather than mislead. We're obsessively passionate about news, and our mission is to help people learn the truth about the world around them. We focus on bringing you accurate stories on topics you care about. The internet is full of fake news and misinformation, and we see that as an opportunity to set the record straight. We're excited to simplify the news experience for everyone through our dedication.