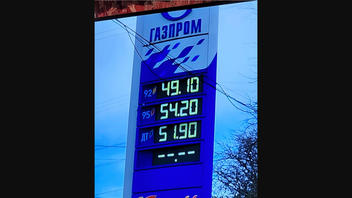 Do low Russian gasoline prices prove U.S. sanctions aren't hurting their economy? No, that's not true: As sanctions by the United States and other Western nations took hold in the weeks following the Russian invasion of Ukraine, gas prices rose in the U.S., but the value of the ruble plunged by about 30%. That eats into Russians' purchasing power, which is calculated to be about 45% of Americans' purchasing power. In another measure of economic pain caused by sanctions, the Russian Central Bank closed stock trading on the Moscow Exchange on February 25, 2022, the day after Russian forces invaded Ukraine. That action was taken to prevent a massive selloff. As of March 11, 2022, the Moscow Exchange had been closed for more than two weeks.
The claim appeared in a Facebook post (archived here) on March 6, 2022. It opens:
Want to know how bad our sanctions are hurting Russia.
Let's take a look at Russia's gas prices right now .

92 octane- 49.3 cents per liter
$1.80 per gallon

95 octane- .54 cents per liter
$2.00 per gallon

Diesel- $51.7 cents per liter
$1.90 per gallon

So we are paying on average 3.79 and up.
Our sanctions are so extreme to Russia that we are paying double for gas AND still paying them for oil instead of using our own...

I'll just assume they're okay with mean tweets!
This is what the post looked like on Facebook on March 11, 2022: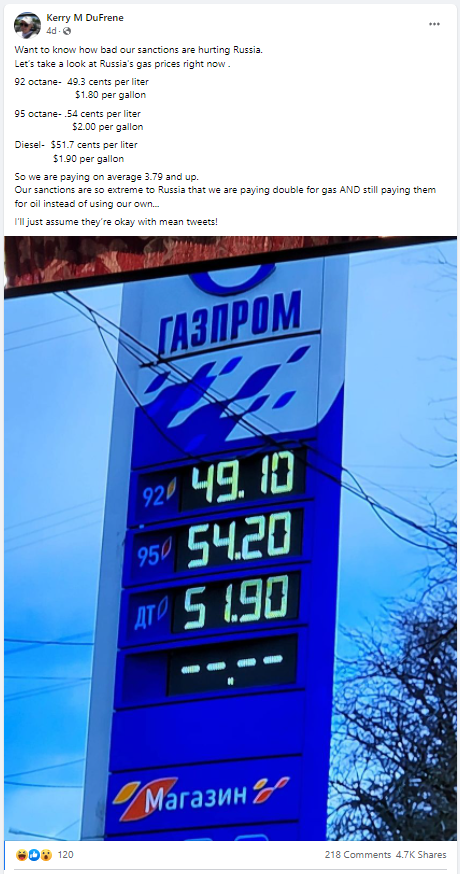 (Source: Facebook screenshot taken on Fri Mar 11 15:37:55 2022 UTC)
The Facebook post shows a sign at a Gazprom gas station. Gazprom is a Russian global energy company that is majority state-owned. While it's not clear when or where this picture was taken, the prices in the image were similar to those shown on Russian pumps in early March 2022. The writer of the post appears to assume Gazprom displays prices in US dollars and not Russian rubles.
On March 7, 2022. the price for octane-95 gasoline in Russia was 51.89 rubles per liter or $1.41 per gallon, according to GlobalPetrolPrices.com. Gasoline prices in Russia, the world's largest producer of crude oil, are traditionally much lower than in the rest of the world. Between November 29, 2021, and March 7, 2022, the average price of Russian gasoline per liter was 51.51 rubles, GlobalPetrolPrices.com said. Globally, the average price of gasoline for the same period was 238.45 rubles per liter ($6.73 per gallon), or more than 4.5 times higher than the Russian average.
Apples and oranges (bourbon and vodka)
Prices at the pump differ, in part, because the U.S. and Russian economies are very different. The gross domestic product (GDP) per person -- the total market value of the goods and services produced by a country's economy divided by the number of people who live there -- is more than six times higher in the United States than it is in Russia, according to The World Bank. For 2020, it was $10,126.72 per person in Russia versus $63,593.44 in the United States.
The vast difference in wealth between the two countries also plays out in cost of living and purchasing power. The cost of living in Russia is 63.2% lower than in the United States, according to WorldData.info, which compiles information from The World Bank, the International Monetary Fund and the Organisation for Economic Co-operation and Development. And while things cost a lot less in Russia, because of their lower average income ($891 vs. $5,378 a month), Russians only have about 45% of the purchasing power of Americans.
Sanctions and the Russian economy
Since Russia's invasion of Ukraine on February 24, 2022, and the imposition of sanctions by Western nations, the value of the ruble against the U.S. dollar had dropped some 30% as of March 11, 2022. In total, the ruble has lost 40% of its value against the dollar in 2022. While the Russian Central Bank closed stock trading on the Moscow Exchange (MOEX) on February 25, 2022, the day after Russian forces invaded Ukraine, a big selloff is projected when sales are allowed again. On its last day of trading as the invasion of Ukraine began, the MOEX crashed 33%. As of March 11, 2022, the market remained closed.
While the United States had been importing about 10% of its oil from Russia, President Joe Biden put an end to that on March 8, 2022, announcing a ban on Russian crude. The national average for regular gasoline was $4.33 on March 11, 2022, according to AAA. That's up from $3.48 a month earlier and $2.83 at the same time in 2021.
More coverage of Ukraine and Russia from Lead Stories is available here.