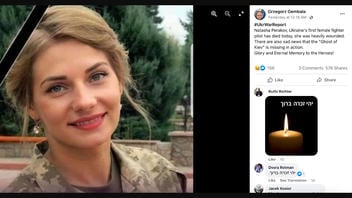 Did Ukraine's "first female fighter pilot" Natasha Perakov die after sustaining critical wounds in the 2022 Russia-Ukraine conflict? No, that's not true: Not only is a picture used to identify Perakov actually of another service member in the Ukrainian military, but there is no evidence that "Natasha Perakov" even exists, let alone that she was the first female fighter pilot in the country.
The claim appeared in a Facebook post (archived here) on March 1, 2022, that had an image of a woman in fatigues wearing makeup. The caption of the post reads:
#UkrWarReport
Natasha Perakov, Ukraine's first female fighter pilot has died today, she was heavily wounded. There are also sad news that the "Ghost of Kiev" is missing in action.
Glory and Eternal Memory to the Heroes!
This fact check will only cover the claim about Perakov.
This is what the post looked like on Facebook on March 2, 2022:
(Source: Facebook screenshot taken on Wed Mar 2 18:39 2022 UTC)
The picture in the Facebook post is of Olesya Vorobey, a participant in a beauty contest in Starobilsk, Ukraine. The contest was held for women serving in the Ukrainian military and law enforcement. According to this 2016 article from the Ukrainian military, Voroba was the representative for the Ukrainian armed forces. The article only specified that she was a part of an anti-terrorist operation and served in the West Operational Command, not that she was a fighter pilot.
Although the Los Angeles Times has referred to former Ukrainian military pilot and politician Nadia Savchenko as the first female combat pilot in Ukraine, Lead Stories could only confirm that Savchenko had to petition to be accepted into Ukraine's Kharkiv University of Air Force.
Lead Stories also searched for the name "Natasha Perakov" using Google's search engine. The search only generated results published within a week before the publication of this fact check. Although some of the results referred to Perakov as a notable military pilot, there is no additional information about her outside of the claim.
Other Lead Stories fact checks about the ongoing Russia-Ukraine conflict can be found here.