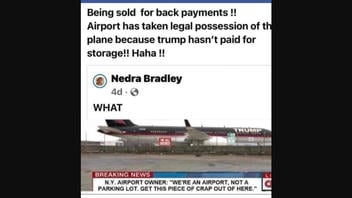 Did an airport in New York take "legal possession" of former President Donald Trump's personal Boeing 757 over unpaid storage fees? No, that's not true: A post making the claim appears to be satirical. In reality, Trump's plane left the New York Stewart International Airport in Orange County, New York in November 2021 and arrived in Louisiana, where it was expected to be serviced. A spokeswoman for Trump told Lead Stories that the claim is "100% false."
The claim appeared in a Facebook post (archived here) on April 6, 2022. It included an image of what looked like a screengrab from a CNN broadcast showing Trump's plane. Text along the bottom of the alleged CNN screenshot read: "N.Y. Airport Owner: 'We're an airport, not a parking lot. Get this piece of crap out of here.'" A caption alongside the image read:
Being sold for back payments !! Airport has taken legal possession of th[e] plane because trump hasn't paid for storage!! Haha !!
This is what the post looked like on Facebook at the time of writing: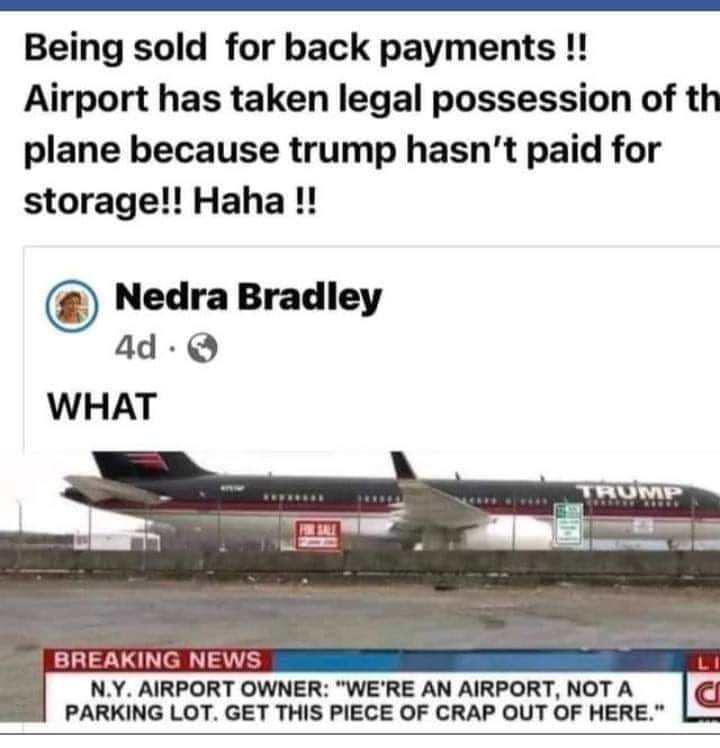 (Source: Facebook screenshot taken on Fri Apr 8 19:35:02 2022 UTC)
The post did not include any sourcing for its claim, which appears to be satirical. It appeared on a Facebook page entitled "The National Strategic Stockpile of Memes and Satire," which describes itself as a "liberal-minded group for sharing memes and satire." Also, the alleged CNN screengrab was clearly altered. The network would not show an unedited expletive like "crap" in a news ticker.
CNN reported on the status of Trump's 757 back in March 2021. Then, the plane sat idle at the airport in New York. One engine was missing parts and substantial fixes would be required to restore the plane to its former glory, according to CNN.
A few months later, in May 2021, Trump released a statement in response to questions about his plane. It read:
Many people have asked about the beautiful Boeing 757 that became so iconic during the Trump rallies. It was effectively kept in storage in Upstate New York in that I was not allowed to use it during my presidency. It is now being fully restored and updated and will be put back into service sometime prior to the end of the year. It will soon be brought to a Louisiana service facility for the completion of work, inspection and updating of Rolls-Royce engines, and a brand new paint job. When completed, it will be better than ever, and again used at upcoming rallies!
The plane did leave New York and arrived at Chennault International Airport, in Lake Charles, Louisiana, in November 2021. At that time, Chennault posted a link to a local news story by KPLC, which reported that Trump's plane was being serviced at Chennault for an undetermined period of time.
Lead Stories reached out to Trump spokeswoman Liz Harrington to ask about the post's claim. In an email, dated April 8, 2022, she wrote: "This is 100% false."