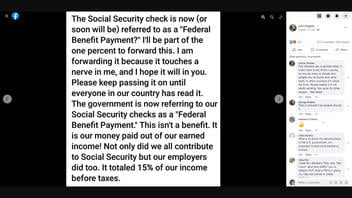 Will Social Security payments just now or in the near future be referred to as "federal benefit" payments? Not exactly: Payments from the Social Security program have been considered federal benefits since the federal government created the program in 1935.
The claim appeared in a Facebook post (archived here) on August 12, 2020. The post's graphic reads:
The Social Security check is now (or soon will be) referred to as a 'Federal Benefit Payment?' I'll be part of the one percent to forward this. I am forwarding it because it touches a nerve in me, and I hope it will in you. Please keep passing it on until everyone in our country has read it. The government is now referring to our Social Security checks as a 'Federal Benefit Payment.' This isn't a benefit. It is our money paid out of our earned income! Not only did we all contribute to Social Security but our employers did too. It totaled 15% of our income before taxes.
This is what the post looked like on Facebook at the time of writing:
(Source: Facebook screenshot taken on Wed Apr 20 15:38 2022 UTC)\
People eligible for Social Security payments are older adults based on their earning records, individuals with certain medical conditions and qualifying family members. The federal government has referred to Social Security payments as benefits since passage of the Social Security Act of 1935. The preamble of the act explicitly refers to payments for older adults as benefits and reads in part:
An act to provide for the general welfare by establishing a system of Federal old-age benefits ...
Additionally, the section of the act that deals with payments for older adults, Title II, is called "FEDERAL OLD-AGE BENEFITS." Within that section, the word "benefit" appears close to 20 more times.
Since then, the federal government has continued to refer to a Social Security payment as a benefit, including on the program's website (archived here) and in literature explaining the program published in 2019 (archived here).
The Facebook post also claims that contributions to Social Security total 15 percent of income before taxes. However, that is not true: When the Facebook post was published in 2020, the tax rate for employers and employees was 6.2 percent each (archived here), totaling 12.4 percent. This is still the case at the time of writing (archived here).