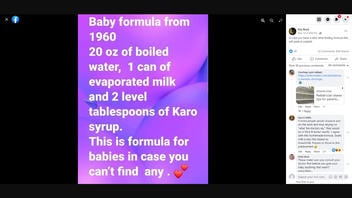 Should parents make and feed homemade baby formula to their infants if they can't find or afford it? No, that's not true: For years, the American Academy of Pediatrics (AAP), the Food and Drug Administration (FDA) and the Infant Nutrition Council of America have all advised against making and feeding homemade baby formula to infants. Such recipes could rob babies of essential nutrients needed for normal development.
The claim appeared in a Facebook post on May 10, 2022. The caption of the post reads:
In case you have a hard time finding formula this will work in a pinch
The graphic in the post shares a homemade baby formula recipe, supposedly from 1960, that consists of 20 ounces of boiled water, one can of evaporated milk and two tablespoons of Karo syrup. Another Facebook post sharing the recipe and other vintage homemade baby recipes can be found here.
This is what the post looked like on Facebook at the time of writing: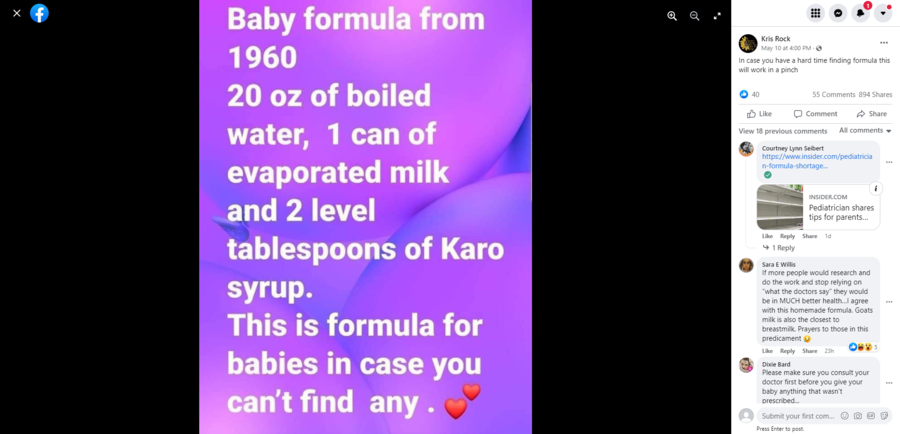 (Source: Facebook screenshot taken on Thu May 12 14:04:19 2022 UTC)
The U.S. has had a baby formula shortage that began during the COVID-19 pandemic. Experts have attributed the exacerbated shortage in 2022 to supply-chain issues, inflation and the recall of several baby formula products from Abbott. This has led to several major retailers taking measures to ration baby formula products per purchase or customer.
Still, several organizations have cautioned against making and feeding homemade baby formula to infants as an alternative to store-bought formula. In a blog post from the AAP, Dr. Steven A. Abrams, a board-certified pediatrician and a professor of pediatrics at the medical school of the University of Texas at Austin, answered several broad questions about homemade and diluted baby formula. He noted that ingredients often used in homemade baby formula recipes like milk substitutes and cow's milk -- the type of milk found in evaporated milk, which is in the recipe shared in the Facebook post -- do not contain the proper balance of nutrients infants need in their formula. Additionally, he noted that watered-down formula "decreases and dilutes the nutrients" that infants need to consume.
Abrams also specifically addressed homemade baby formula recipes that were made and fed to infants in past decades:
Although feeding babies regular milk or making homemade formula was common decades ago, it is not a safe or recommended practice. In the United States, laws and other government rules make sure that all infant formula sold in stores meets very strict rules about their ingredients, to make sure it supports healthy growth and development.
The AAP also published a statement in 2019 that warned parents against homemade baby formula or diluted formula. The statement reiterated several of the points made in the AAP blog post by Abrams.
The FDA issued an advisory on February 24, 2021, warning parents not to make or feed homemade baby formula to their infants. Echoing sentiments by the AAP, the FDA stressed that it strictly regulates the nutritional value of baby formula, which is essential to infants' development. One section in the advisory states:
The FDA will continue to warn parents and caregivers not to make and feed their infants homemade formula.
The Infant Nutrition Council of America cited the FDA when advising parents not to make or feed homemade baby formula to their infants.
So, what should parents do instead of making and feeding homemade baby formula to their infants? Another AAP blog post by Abrams suggested that parents who cannot find baby formula consult their pediatrician. Parents can also try buying baby formula from well-known, trusted distributors online and ask other parents for advice, which should be double-checked with their pediatrician. Abrams discouraged parents from buying baby formula from overseas, as it would not be regulated by the FDA.
The Infant Nutrition Council of America and the AAP both suggested that for emergency sources of infant nutrition, parents contact Feeding America or dial 211, a United Way community resource helpline. The two organizations also noted that parents who qualify can use government assistance benefits to buy baby formula.